So you're considering a career in dog walking? We approve! Dog walking is an excellent career path if you're a dog lover. Not only do you get to spend your way with adorable furry friends, but it also gets you walking out and about in the good outdoors, which can reduce stress and is great for your mental and physical health. What's not to love?
But we're sure you have a lot of questions, well don't worry because you're in the right place. In this article, we are going to discuss how you get paid as a self-employed dog walker in the UK, how to get clients, how to market yourself, and we introduce ourselves at It's All Savvy, and tell you how we can help your exciting new career.
How much do self-employed dog walkers make in the UK?
Before getting into how to get paid as a dog walker in the UK, first, we're sure you'll want to know what your potential earnings could be. Understanding the typical salary of a dog walker and knowing how profitable running a dog walking business can be may help you decide whether it's suitable for you. In this section, we answer, 'How much do dog walkers make?' And we think you'll be pleasantly surprised by the answer.
Working for a dog walking company is likely to land you minimum wage, which for some, is perfectly fine and absolutely worth it for such a dream job for many. To increase the likelihood of a higher salary, it's a good idea to carry out some training, such as pet first aid or dog training.
However, if you want to work as a self-employed dog walker, you can certainly earn more than minimum wage, depending on how much you charge and how many dogs you walk. The modern-day dog walker can use social media to promote their dog walking business which has seen a rise in the success of dog walkers in recent years.
The Daily Mail identified the growing success of dog walkers. A survey said walking 13 dogs daily can exceed the national average annual salary and suggests that expanding your dog walking business to other pet services, such as dog boarding, can boost your profits significantly.
So, can you make decent money as a self-employed dog walker? Absolutely! We're here to tell you how. One way to manage payments as a self-employed dog walker is to find the best point-of-sale solution, to make smoother transactions, and protect yourself and your business.
How to get clients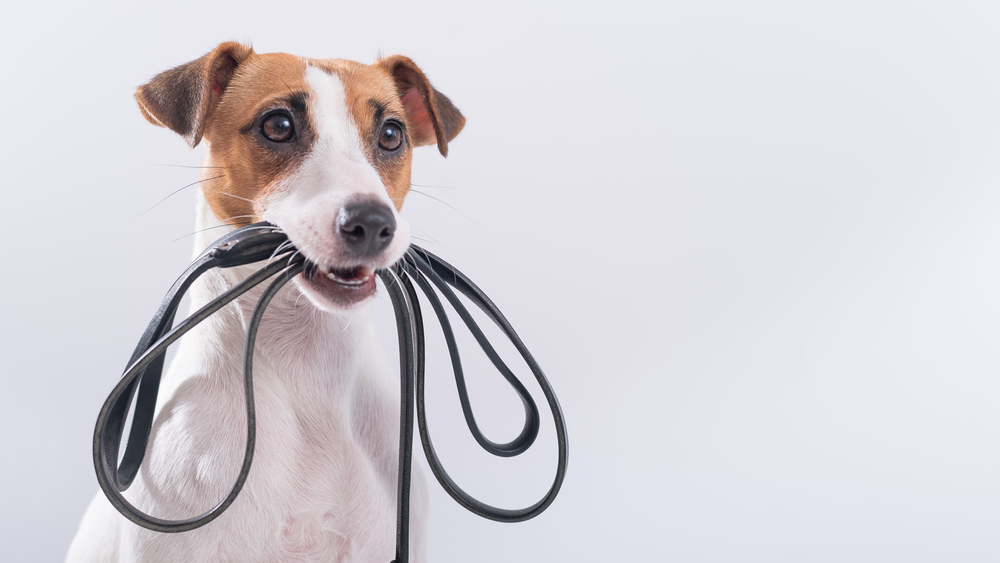 To get new clients, you must sell yourself and go beyond asking your friends with dogs if you can provide them with your services, particularly if you want to make good money. This means you will need to advertise yourself as a dog walker. Thankfully, no formal training is needed to become a dog walker, but experience with dogs will definitely help clients trust you and have faith in your abilities, and some dog walkers even take courses in dog first aid or dog training.
Show potential customers that you are trustworthy and reputable with the right insurance. You will need public liability insurance to cover to protect you should a member of the public get injured or their property damaged by a dog in your care. Some insurers offer specific dog-walking insurance that covers you if the dog in your care is injured.
The most important thing to consider when trying to gain dog-walking clients is to show them you have experience working with dogs and are trustworthy and friendly; after all, you'll be looking after a well-loved family member and that you have the right insurance.
How to advertise
You will need a marketing and advertising strategy to reach more potential customers. Here are some tips and ideas of different ways you can spread the word about your services as a dog walker.
Dog walking leaflets
Introduce yourself to potential customers by creating a simple leaflet that advertises your services and provides them with your contact details, website, and social media page. Visit your local pet shops, grooming parlours, vets, and popular dog walking parks and talk to potential clients.
Networking
Get involved in the dog community, including other dog walkers. Don't be intimidated to introduce yourself to your competition. People in the same profession often know each other and pass clients on to people in their circle if they can't fulfill a customer's request. Not only this, but it will give you a clear picture of the dog walking situation in your area, so you can be prepared about what to expect.
Other dog walkers can help you with your pricing structure and recommend the right insurance and other tools and equipment to invest in.
Create a website
Creating a website shows potential customers that you're a serious dog walker. A website doesn't have to be anything ultra fancy and high-tech, so don't worry if this isn't your thing. There are plenty of website platforms out there that are easy to use and help you to create professional-looking websites. A website should include the following:
Contact information
Prices
Availability
Services
Reviews
That you're insured
Information about you
Qualifications and experience
Social media is your best friend
The 3 most popular social media platforms to make yourself known as Facebook, Instagram, and Twitter, and we recommend you use all of them.
You can set up a dog-walking group and a Facebook business page to network with potential clients. There are plenty of ways to use Facebook for marketing, both free and paid for ads. Share photos on social media when you're walking doggies, post special offers, build a following, and ask customers to post reviews so other dog owners can see that you have a good reputation.
Use a professional marketing service
Using a professional marketing service is really beneficial to any business. Digital marketing agencies, like Creative Marketing, use innovative and professional techniques to help you stand out from the crowd and get ahead of your competitors. A professional marketing service can help you shout louder about your dog-walking business and improve your online presence.
How to set your prices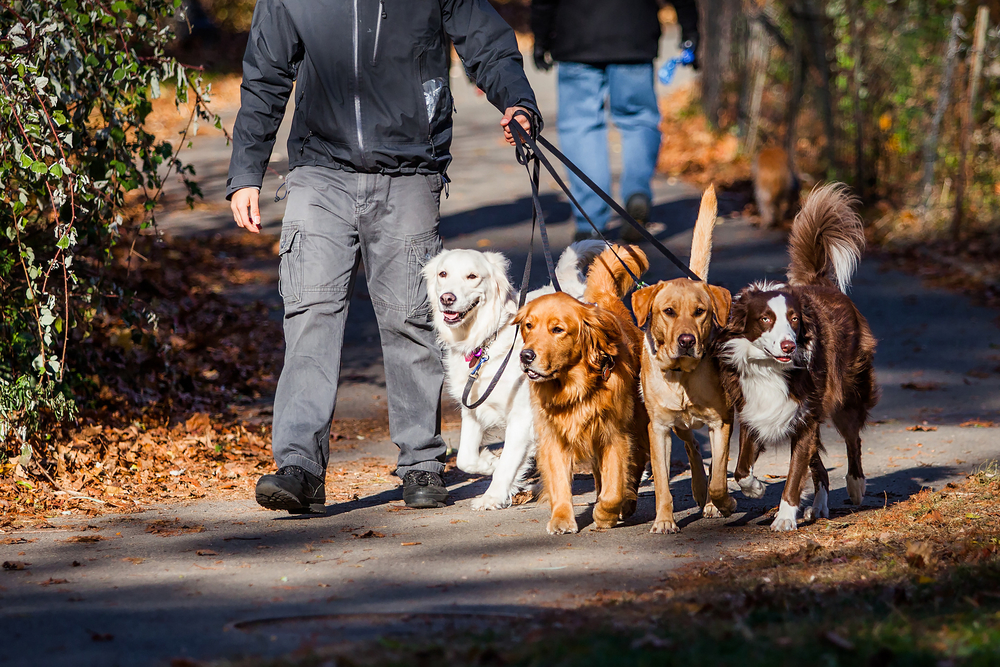 To be able to earn a pretty penny, you need to make sure you set your prices right from the get-go. You need to make sure you're making money so the job is worth your while, but you don't want to make your prices too steep as this will put potential clients off.
As a self-employed dog walker, it will be between you and your clients how long or how far you walk the dog, and it will depend on the breed of dog too. Most dogs need around 20-30 minutes of daily exercise, and smaller dogs may not need as much exercise as larger dogs. Many dog owners charge by time rather than distance; for example, you could offer your clients 20, 30, 40, or an hour walking time and charge a set price.
It is recommended not to walk more than 4 dogs at a time, so it's up to you to determine how much you want to charge and what time limits you will put on each charge. Start off simple, offer a 30-minute or 60-minute walk, and group dogs together to earn more money per walk.
Taking payment and managing your clients
This is where we come in at It's All Savvy because we provide intelligent appointment scheduling and business management software for individuals and businesses. Lucky for you, we now have Savvy Pet Walkers, an easy-to-use appointment and management system designed especially for dog walkers. It can also be used in dark mode on your Android app to save battery, energy consumption and makes it easier for your eyes.
 You can use our system to:
Manage appointments
Manage customer information
Manage pets
Store contracts
Setup billing
We are a reputable and growing service provider that continues to innovate the pet care industry, so we're always changing and looking for new ways to help pet care professionals like yourself. Keep a look out on our website for more services that we offer.
How to expand
Why stop at dog walking? If you want to expand your dog walking business, you can take other avenues. Consider dog boarding or pet sitting so you can look after the owner's dogs while they're away from home. Dog boarding entails a pet carer taking the pet from their home and looking after them in their own home or suitable facility. A pet sitter is usually someone that looks after a dog in the owner's home.
Before doing this, ensure you understand dog sitters' licencing rules and invest in excellent kennel software.