There is no denying that people love to look after their pampered pooches. The UK pet grooming market is set to be worth more than $913.8 million by the end of 2023, which shows how much owners are willing to spend on the furry members of their families.
Small businesses account for 99.9% of the business population across the UK, highlighting the dominance that companies, such as independent pet groomers, have over the market. This is further enhanced by the fact that 47% of consumers say they would go out of their way to shop from a local brand.
Running any business is not easy, even if there is demand for your product or service. When it comes to the art of dog grooming, it is something that pet owners will always need, so it is up to you to ensure your business is set up for long-term client satisfaction. 
Savvy Pet Spa was founded by animal lovers to help dog groomers operate more efficiently by harnessing the power of digital transformation. If you want to know how to start a successful pet grooming business that has muddy paws queued up at your door, then keep on reading.
What Does a Client Look for When Choosing a Pet Grooming Business?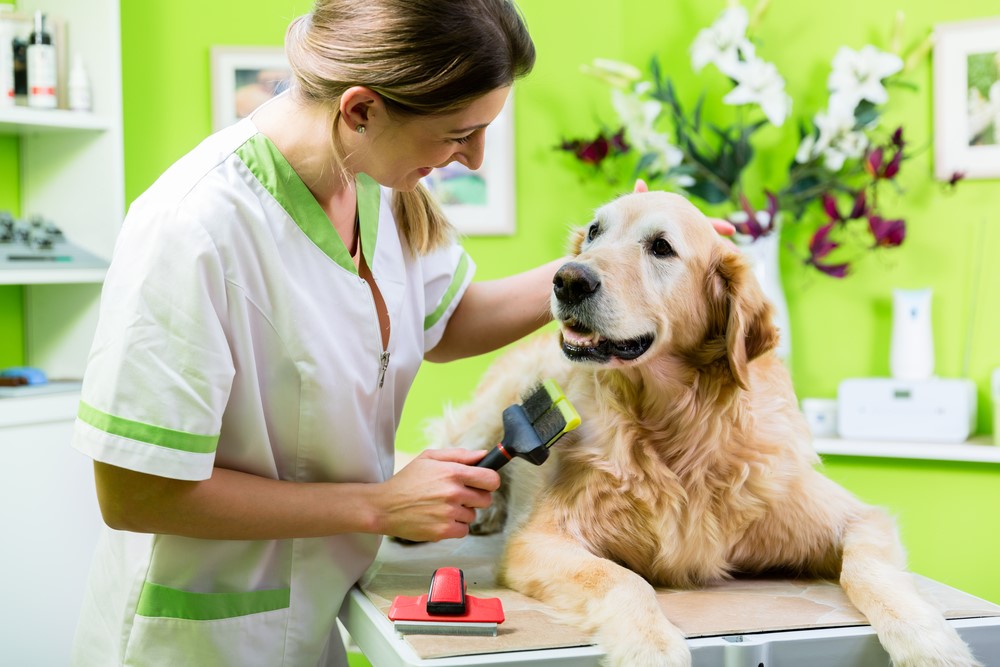 Before you start the journey to becoming your local area's go-to pet groomer, it is important to understand your business's needs. Even if dog grooming is your passion, the main reason that most people have for running a business is to make money, which is why being a success is essential. 
Even though dog groomers are in high demand across the UK, you must offer the following considerations in your business to retain customers from your competition.
Positive reviews and testimonials about your business, services, and yourself as a pet groomer. People care about their animals, so it is highly important to know that they are choosing a reputable business. 
The range of services should also reflect different needs, dog breeds, and confidence levels to ensure something for everyone. 
The professional nature of your work environment will also be assessed as clients want to know their dogs are being left in a secure and clean place.
Pricing is also important, with many researching how much dog groomers charge before booking to get an idea of what they should be paying.
Once you have got your head ahead of the requirements that a successful dog grooming company needs to meet, you are ready to put the foundations in place to get your company up and running.
Guide to Setting up a Dog Grooming Business
Whilst many elements go into crating a pet grooming company, we believe the four main areas to consider are the following. This covers everything from the legalities of running this business to the branding that will appeal to your target clients.
1. What Licences Do You Need to Run a Pet Grooming Business?
Whilst you will need to be fully trained before picking up the clippers, you do not currently need any specific licences to trade as a pet groomer in the UK.
You will need to invest in the right insurance before you start trading. As you are working with members of the public, public liability insurance is needed to protect your operations. If you plan on running a service with employees, you will also need to choose employers' liability insurance.
If you plan to run your pet grooming business from home, which is a popular choice. In that case, you may also need additional permissions from your mortgage providers, planning office, and local council. Permissions to run a UK business from home are in place to ensure the safe operations of any associated companies that start trading. 
2. Choosing the Right Branding and Company Image for Your Pet Grooming Business
Your company image is also essential to get right, so you must consider everything to do with your market presence as a part of the start-up process. 
The name of your business will need to have all the right connotations and be memorable for consumers. You want them to know instantly that you are a pet grooming company so that if they come across you by chance, your offer is clear. The name should be created after researching your industry and competitors and must be unique. Try creating a mind map of all the words that describe what you offer and combine them with what is distinctive about your offering to create something genuinely individual.
Consistency in your brand can improve revenue by as much as 20%, so creating a professional image is important, to say the least. Every aspect, from the colours you choose to your logo will represent everything your business is about. This should then be reflected across different marketing tools, including a website, presence on a booking app such as Savvy Pet Spa, business cards, paid advertising, and social media.
If you want to find out more, check out our blog about how you can market your dog grooming business on a budget.
3. What Software and Skills Should You Invest in to Create a Desirable Pet Grooming Company?
It is not just the talent of dog grooming that will make for a successful enterprise but also a switched-on business mind. To start a lucrative company and maintain its running, you will need to showcase the following skills as a business leader:
Understand financial efficiency to ensure you are always making the best profit possible.
Have brilliant customer service skills that translate to humans and animals, as it takes a special kind of person to keep everyone happy.
You will also need to be aware of competitors and keep up with trends within your industry.
Logistically, you will also need to implement the right software to keep things running smoothly. You will need an automated booking platform, CRM, email software, and access to programmes such as Microsoft 365. Having the proper digital infrastructure is just as important as the physical one that you will create.
4. How Do I Choose Where to Run My Dog Grooming Business?
A pet grooming business can run either from your home or a different building. When choosing your base, you will need to consider how easy it is for your clients to get to you. You may even put your service on wheels and offer a mobile service to ensure you can access as many clients as possible.
Your environment also needs to be branded to reflect your company, offer a safe place for animals, and be equipped will all the essentials needed to carry out full and professional grooming. Clients will consider your environment a deciding factor when choosing who to spend their money with, so make sure it has a professional and welcoming feel.
What Training Do I Need to Follow to Become a Dog Groomer in the UK?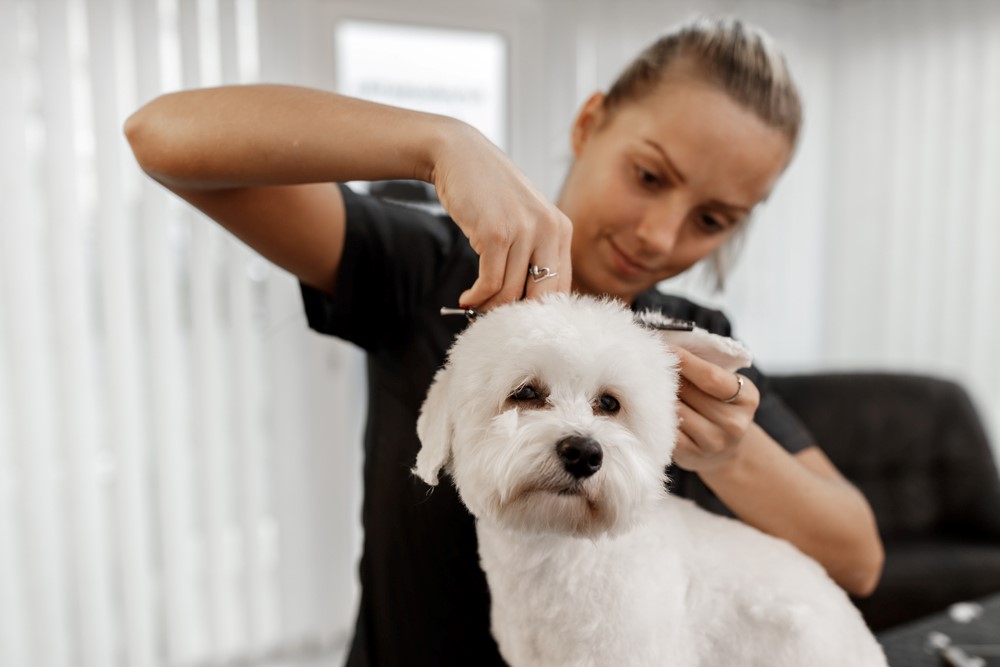 The legal requirement to become a certified groomer in the UK is that you must have obtained a diploma in dog grooming to achieve a licence which allows you to trade successfully. This is needed to appeal to the right customers and secure the relevant insurance required to operate a business. The National Careers website states that a Level 2 certificate for dog grooming assistance, Level 3 in dog grooming, or a Level 4 higher professional diploma in dog grooming are all valid options.
There are also additional courses that you can undertake which will attract different customers, such as detailed styling or well-being packages. People love their pets, so anything you can specialise in that makes you more unique will give your company solid foundations to grow upon.
What Techniques Can I Use to Expand My Pet Grooming Business?
If you want to improve on your initial success and diversify your small business to offer more, then we have some brilliant tips for achieving just that.
Subscriptions are a great way to create repeat custom and allow you a feasible way to expand your operations as you have a strong forecasted view of sales. This is just one of the many Savvy Pet Spa features which is designed to help you offer something unique that traditional dog grooming services might not have.
Attending industry events or being a knowledge base is also a clever way of showing your expertise within the pet field. We recently wrote about why cruft's is the best dog event of the year for dog groomers, with one of the main reasons being that it allows you to stay on top of trends. If you are also sharing snippets of your life away from the grooming room on your socials, it is likely to appeal to a wider audience.
Offering different and unique services is also a good way to remain competitive even in time of financial hardship. Growing your dog grooming business in a recession or when faced with different external influences can be hard. If you are offering something unique that other groomers do not have, you are going to secure the custom and expand the breadth of your business.
How Can Savvy Pet Spa Help Me Run a Successful Dog Grooming Business?
If you want to run a successful dog grooming business, automation and efficiency are essential. Savvy Pet Spa has a range of features which help you operate confidently and offer a presence to customers 24/7.
To find out more, you can view our pricing or book a demo by clicking here.
Starting the business is one thing, but keeping it running smoothly is the main goal. With the right foundations in place, your pet grooming company will be a guaranteed success in no time at all!