There are more than 4.3 million self-employed people in the UK, which equates to 13% of the country's workforce. A popular choice due to its flexibility and scope for working with multiple clients, being self-employed is often an excellent idea for those who work within the pet care sector. 
As with any business or self-employment status, the amount you stand to earn depends on a few factors and brings an associated level of risk. Despite this, at Savvy Pet Spa, we believe that with the right tools, self-employed dog groomers can earn good money doing the job they love.
Continue reading to learn about the full potential of dog grooming earnings in the UK and how you can elevate your income with some of our top tips.
How Much Can Dog Groomers Charge in the UK?
The first thing to consider when looking at how much a self-employed dog groomer can earn is understanding what the public is willing to pay for the services. 
There is no hiding the fact that the UK is a nation of dog lovers, with an average amount of £1875 being spent on each pampered pooch every year. Dog grooming takes a sizeable chunk of this to spend as it is a vital part of maintaining the health and wellbeing of a dog. In 2022, the dog grooming industry was worth an astounding £432 million in the UK. 
The amount that can be charged for each service will depend on a few factors, such as the dog's age, experience at the salon, breed of dog, coat requirements, and groom frequency. The length of the groom also needs to be considered, as it can take 1 to 2 hours to carry out a thorough wash, trim and blow dry.
It is estimated that the average price of a dog groom is between £43 to £65, depending on the factors we have listed above. By basing your business planning on the cost of a groom and how many services you can offer, you will be able to gain an idea of your average profit before deductions are made.
What Is the Average Salary of a Self-Employed Dog Groomer in the UK?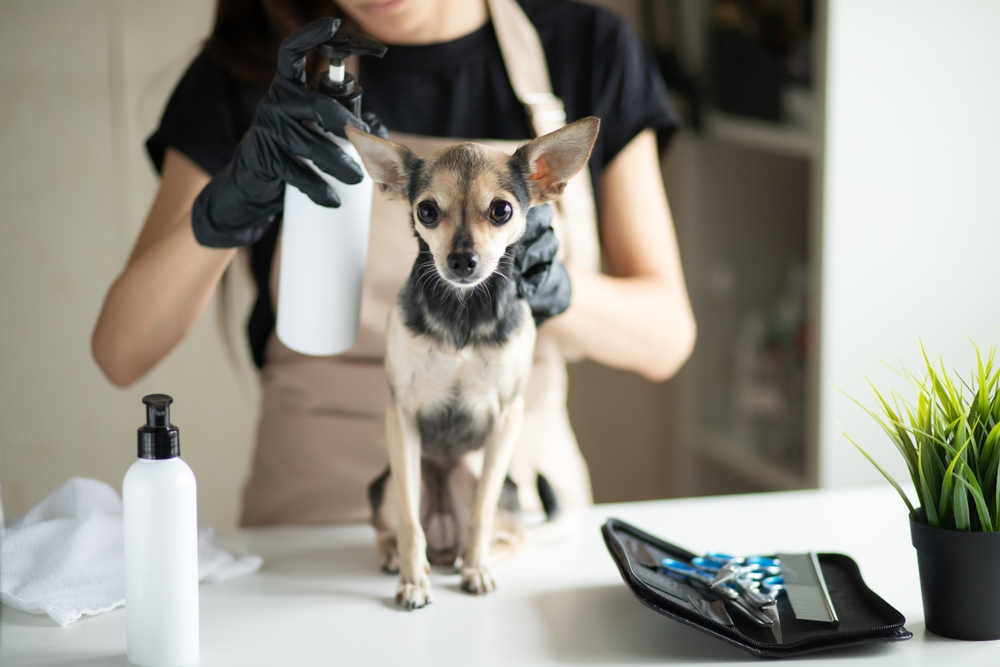 When considering how much you can earn as a dog groomer, there are different factors that need to be considered for self-employed professionals. 
The average salary of an entry-level dog groomer is £21,226, which can rise to an average of £26,339 per year for experienced professionals. This is based on the average of both employed and self-employed groomers, but it should be noted that sole traders do have the ability to increase their earnings through methods such as competitive pricing and more significant salary proportions from profits. 
In the UK, the average self-employed salary is £42,500 per year. In contrast, the UK average for a PAYE employee is £33,280. This shows just how much potential there is for those who manage their workloads to make more money, which is also relevant within the dog grooming industry. Self-employed professionals pay tax on their profits, not earnings, making it easy to see what salary can be taken from the company and often means less tax is paid. 
Despite this being average, there is ample potential to earn more if your company can thrive with the right tools!
Is There a Demand for Dog Groomers in the UK?
Since 2021, the number of pet dogs in the UK has increased by 10.2 million. This means there are many furry friends out there who need to be groomed, frequently equalling many opportunities for groomers across the UK. 
It is also reported that many pet owners prefer to spend money on their animals instead of themselves, which means that services such as dog grooming will always be in high demand. If you are considering whether it is worth being a dog groomer, it most definitely is, as the industry is set to continue to grow over the coming years.
How Can I Become a Self-Employed Dog Groomer?
Becoming a self-employed dog groomer may seem daunting, but we can assure you it is not that scary! You can follow the below steps to set yourself up as a sole trader within the pet-care sector:
Complete your training to become a professional dog groomer so that you have the correct experience to complete the job.
Register yourself as self-employed with the government so that they know your employment status. This registers you for self-assessment tax returns, which must be completed at the end of every financial year.
Decide how you want to manage your finances. You can either select to register with an accountant or educate yourself on managing tax payments to save even more money. 
You must also register for VAT if your turnover exceeds £85,000 annually as this will mean you are liable for different taxes.
Choose the right software tools that will be helpful to automating your company, as there are often more admin tasks associated with being self-employed. 
How Can I Earn More as a Self-Employed Dog Groomer?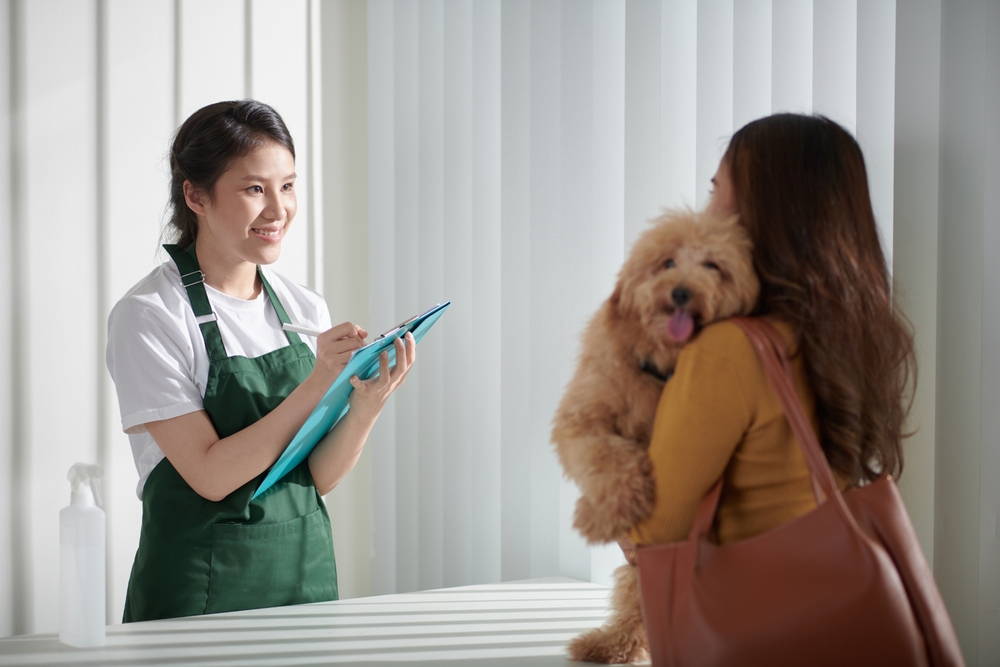 As we have mentioned, being self-employed brings with if additional flexibility that can elevate your earning potential as a dog groomer. To achieve this, you may choose to select any of the following options.
Scale to Offer Other Services.
Elevating your service offering is one of the best ways to increase your earning potential. If you are selling a pet grooming service that is more bespoke or inclusive of other products, you will bring in more profit. People also love to spend on their pooches, so offering add-ons or subscriptions are a great idea.
Spend Less on Software and Optimise Automation.
Dog grooming can be a highly profitable service if management wisely.
The Savvy Pet Spa packages start from just £35 per month, which offers a way to manage CRM, admin, and advertising for just one cost. Automation is also facilitated through this, which means you can be booking in new clients even when in the middle of a grooming session. This means you have a better profit margin, so more of a salary percentage can be taken from your profits. 
Advertise Less and Use Digital Exposure as Your Main Marketing Source.
By optimising a digital listing platform, such as our own, you can benefit from streamlining your marketing spend, which will improve profits. Choosing fewer platforms with greater exposure to clients can also positively represent a business as it shows exclusivity and legitimacy.
How Can Savvy Pet Spa Help Self Employed Dog Groomers?
Whilst there are factors you will need to manage yourself; our security-enriched booking technology can help give your new dog grooming business a professional image before you have even trimmed one tufty ear!
For self-employed people, time is likely to be even more precious than for those with teams around them. Our platform is designed to automate and streamline the work that multiple people usually do in just a few clicks.
We also offer solutions to common issues for small businesses, such as missed payments and CRM solutions. This is ideal for self-employed people as it minimises the overall risk associated with your trading situation.
Features such as our customer subscriptions also improve the chance of repeat bookings, improving overall stability. This helps you achieve a longer-term level of financial security and means you can undertake other business planning more confidently.
One of the biggest benefits is that our system makes financial sense. As a sole trader business, you will want to keep your costs down until you are more comfortable with your operations. We think this should be offered to even more established companies as to why you shouldn't benefit from your profits. Our system combines different admin features that would otherwise cost you time and money.
Are You Ready to Get Savvy?
Being self-employed is both exciting and nerve-wracking but hopefully you now understand just how many opportunities there are within the dog grooming industry.
From being able to booking a mucky pup last-minute to having a simple online method of processing payments, pet grooming software offers benefits to both customers and business owners that can make being a sole trader so much easier.  
Being a self-employed dog groomer is filled with financial opportunities that with the right software, you can grab with both hands (or paws!).
If you want to find out more about our own offering, you can book a demo here.