With the UK having over 30% of households that own one or more dogs, as well as dogs being the most popular pet in the UK it is no surprise that dog grooming services and the general pet grooming industry are projected to do well.
In this blog, the team here at 'Savvy Pet Spa' are here to help those who may be wondering 'What qualifications do I need to be a dog groomer?'
We will be answering this question along with providing you with further insights along with explaining our excellent service that can help facilitate any budding pet groomer.
Is dog grooming in high demand?
With the sale of dog grooming products anticipated to grow, it can be agreed that dog grooming is in high demand. Unfortunately sometimes people don't know the right technique, or process when it comes to grooming their dog properly, and it's at these times that a brush you bought online won't be enough to keep your dog's fur from matting.
Dog grooming is also a highly trained skill that owners struggle to replicate. It is not just ensuring that coats are kept clean but also vital healthcare aspects such as teeth cleaning, nail clipping, and ear hair cleaning, which all contribute to the look of a dog and its overall well-being.
Just like getting groceries, buying replacement clothes, and paying for utilities, dog grooming is an essential part of expenditure for many households. This means the more dogs there are, the more of an increase in demand that the sector is due to experience.
So for those interested in becoming a dog groomer, what qualifications do you need?
What qualifications do I need to be a dog groomer?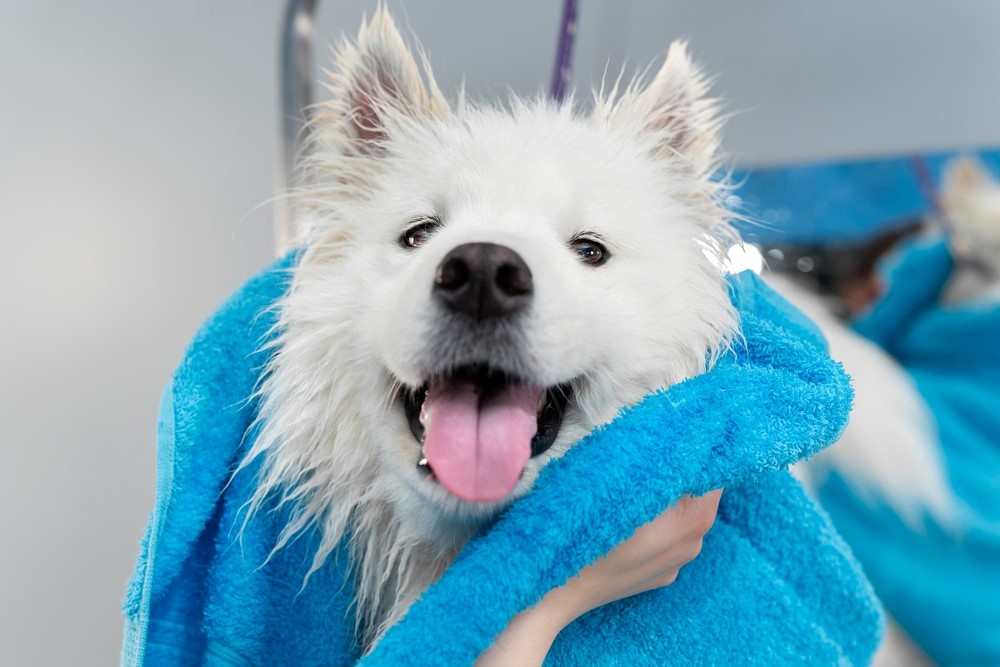 There are a few avenues you can go down in order to become a dog groomer, but if we're talking specifically about qualifications, here are the options you can take to become qualified.
You can get into this job through:
a college course
an apprenticeship
specialist courses run by private training organisations
In colleges or private training centres, you have options in what course you can take (depending on the college/training centre) Examples are:
Level 2 Certificate for Dog Grooming Assistants
Level 3 Diploma in Dog Grooming
Level 4 Higher Professional Diploma in Dog Grooming
In order to take these courses you'll usually need:
2 or more GCSEs at grades 9 to 3 (A* to D), or equivalent, for a level 2 course
4 or 5 GCSEs at grades 9 to 4 (A* to C), or equivalent, for a level 3 course
Do dog groomers need to be qualified?
You don't need a formal qualification to become a dog groomer, however it should be noted that having a qualification will display that you are educated and informed on dog grooming. It can also help put potential customers at ease as they know you have gained formal training.
How much do dog groomers earn?
Dog groomers on average earn between £13,500 – £20,000 depending on their experience & hours worked.
How do I start a career in dog grooming?
In order to start a career in dog grooming it is important to know where to obtain experience if you don't already have some. Here are a few ways you can get the experience to be able to start a career in dog grooming.
Apprenticeships
Work – You could work as an assistant to a qualified and experienced dog groomer & learn whilst you work.
Volunteering – Voluntary work provides an opportunity to work with dogs either at a kennel or at a groomers if they accept volunteers
You could take a private training course to get some of the skills and knowledge needed in this job. The National Pet College has accredited some organisations to deliver professional training.
Can I set up a dog grooming business from home?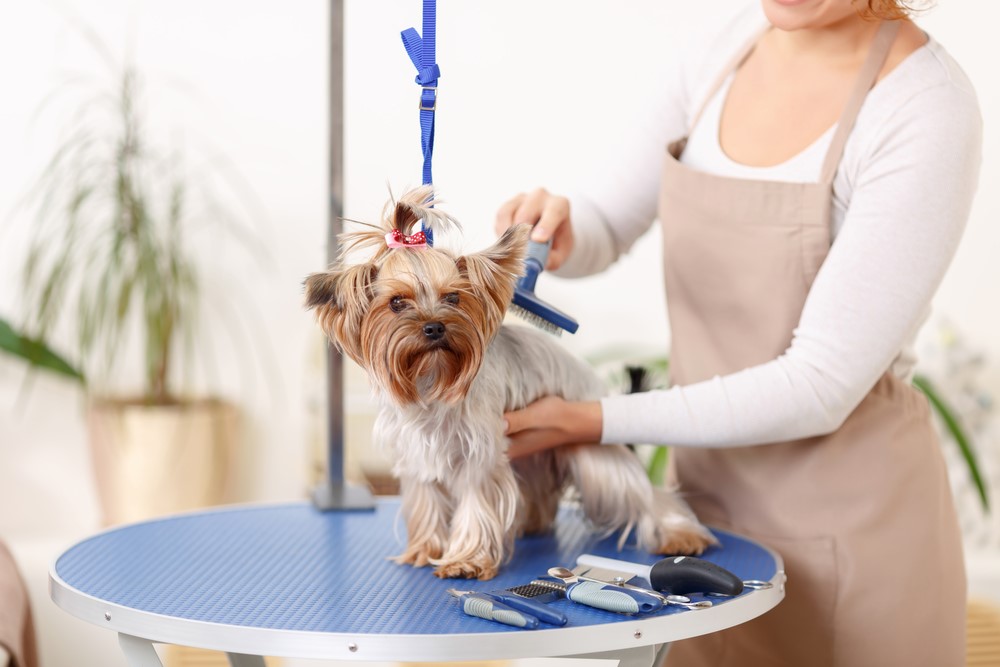 To run a dog grooming business from home you will need to achieve the following:
Training
You must have undertaken and passed a diploma in dog grooming to achieve a license which allows you to trade legally. This will be taken into account when it comes to applying for insurance and business approval, so you must consider what the right options are for you. The National Careers website states that a Level 2 certificate for dog grooming assistance, Level 3 in dog grooming, or a Level 4 higher professional diploma in dog grooming are all valid options.
Equipment
As well as having the right area in your home, you will also need to invest in the tools to carry out the job. Customers will expect to be greeted by a clear and professionally set up space that can keep their pooches comfortable whilst a groom is taking place.
Insurance and Licenses
You will not need a license to groom in the UK but will need insurance to protect yourself, your business, and the dogs. This is in the form of public liability insurance.
Whilst there are not currently any other procedures that need to be followed, the industry is regulated by the Animal Welfare Act 2006. This means that groomers should keep a close eye on what is happening by way of legislation and industry advances to keep on top of any changes.
Business Administration
Working through a word-of-mouth strategy may work in the short term but is not likely to support long and thriving companies. The Savvy Pet Spa features help you run the administration side of your business in terms of payment requests, appointment bookings, gathering customer information, encouraging subscriptions, and supporting marketing efforts in the form of testimonials.
Other business administration aspects that need to be considered include all forms of marketing, such as your branding & outreach materials. With the right presence showcasing the professional nature of your home grooming salon, you can secure customers in just a few clicks.
Pricing Structures
Even if your dog grooming business is a passion project you need to consider which services are being offered and how much you will charge.
One of the biggest issues that small businesses face is losing out on money when clients cancel their services. One of our features is 100% no-show protection which means that you never miss out on money if you don't have time to re-fill an appointment.
What is the best way to organise dog grooming clients?
We have established that dog groomers are in high demand, but so are the number of available services. This is, however, balanced by the fact that there are more dogs than groomers in the UK, meaning that there are enough pampered pooches to go around for everyone.
This means there is also the option to expand your business and take on additional clients by hiring new people. Whatever option you choose, many people are looking for talented dog groomers.
Your solution? The Savvy Pet Spa appointment and booking system.
We help groomers secure the dog grooming clients available in their areas by offering an elevated online system which makes it simple for owners to match with their perfect grooming business. 
Our pricing starts from just £35 per month and offers the following benefits:
To Business Owners
100% no-show payment protection, as we understand that missed appointments can be detrimental to the long-running success of businesses.
Booking systems that can be tailored to suit your own company hours. These also gather all essential customer information and align directly with your internal systems.
Customer subscriptions improve the chance of repeat bookings and also allow you to implement other marketing measures, such as loyalty schemes or special offers, with complete ease.
Automated reminders for customers so that appointments are not missed. This also means that business owners can save time on checking their diaries daily and sending out reminders which can take up valuable time that could be spent fitting in an extra client!
Secure operations which protect both business and customer data.
Review reminders and the ability to create a digital presence online boasting strong testimonials and client feedback, a strong form of marketing in itself.
A cost-effective way to combine multiple administration and security tasks through just one supplier.
To Pet Owners
Simple online booking and reminder service which is perfect for busy lifestyles. This also aligns directly with calendars to ensure that appointments are not missed.
Efficient payment methods which can be automated and securely managed.
Peace of mind thanks to the professional and secure booking system.
Ease of communication with the chosen grooming business as bookings can be updated and amended easily.
Automation is the future for most industries, and dog grooming has not escaped this technical trend. We have created a system which benefits both business owners and clients in a way that will suit business operations during the coming years in which the need for groomers will continue to increase.
Contact us today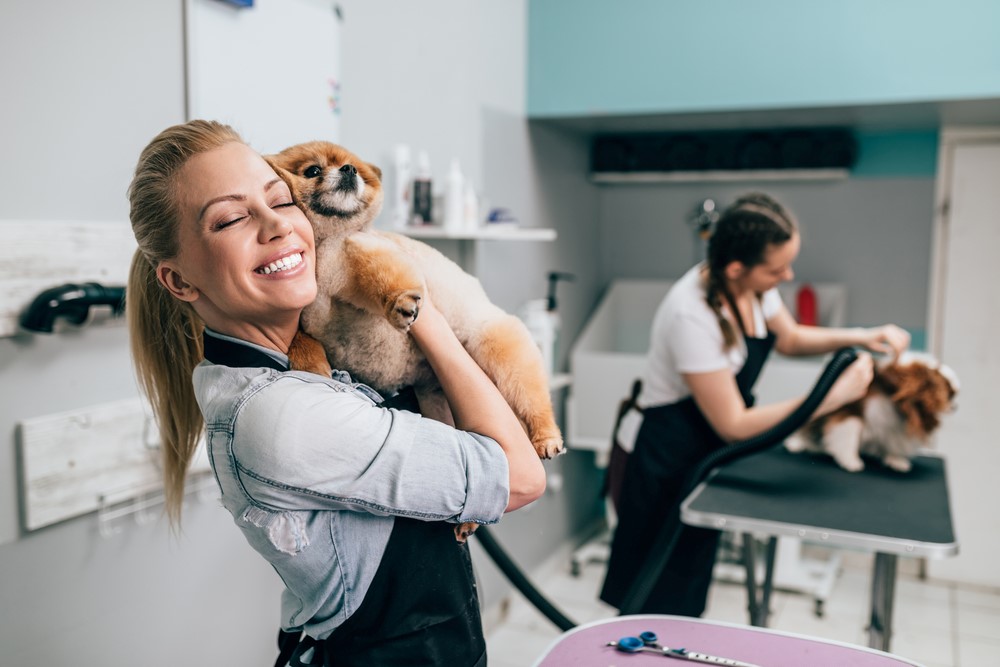 In this article we hope to have shown you the avenues you can take to become a dog groomer, as well as answering other potential questions you may have. Our mission is to help groomers take their business to the modern consumer through our simple-to-use and highly acclaimed platform.
Savvy Pet Spa is here to help you get more clients, and less admin, by streamlining the service that you can offer, your potential is greatly improved & our aim is to help you help others.
We hope to have addressed the question 'what qualifications do I need to be a dog groomer?' Got some more questions? Check out our blog page for some additional information.