At It's All Savvy, we are passionate about helping pet care professionals make thriving careers out of their passions. Having the skills, drive, and determination is essential, but have you considered how vital pricing and customer bases are? We know that not everyone likes to think about the admin side of things, but if you bury your head in the sand for too long, a matted tail will be the least of your worries!
Undercharging for work seems a common issue amongst self-employed and business-owning professionals. Whether it's a result of not being confident or not understanding the going market rate, operating a company in this way will ultimately lead to financial distress.
If you are a dog groomer with questions about your business model's financial stability, our brand-new quiz is perfect for setting the record straight on exactly where you stand.
Take the quiz by clicking here and continue reading to learn more.
What is the Dog Grooming Pricing Quiz?
New for 2023 is the Dog Grooming Pricing Quiz from Savvy Groom School.
This quiz is ideal for those looking to ascertain if dog grooming is a good career path or for established grooming professionals looking to make sense of their business.
Pricing is at the core of every business, especially service-based ones. When it comes to dog grooming, most companies make all their profits from the groom. A financial spiral will surely ensue if you are not charging enough but still maximising your hours. This quiz considers all the financial aspects of a dog grooming business, assessing operations, customer base, competitiveness, and personal experience.
The UK pet grooming is estimated to be worth £432 million. This shows that loving owners are willing to spend whatever money is needed to look after their four-legged friends. With dog grooming essential to a pet's well-being, owners will be willing to pay the going rate for this caring activity. Owners are also savvy and will have a fair idea of the expected price, so if your prices do not align, concerns could be raised.
The dog grooming pricing quiz is designed to help grooming professionals think about the importance of pricing themselves so that their company does not suffer because of their lack of knowledge. We want to promote confidence within the market, and this quiz will help groomers achieve just that.
What Information Can the Dog Grooming Pricing Quiz Provide?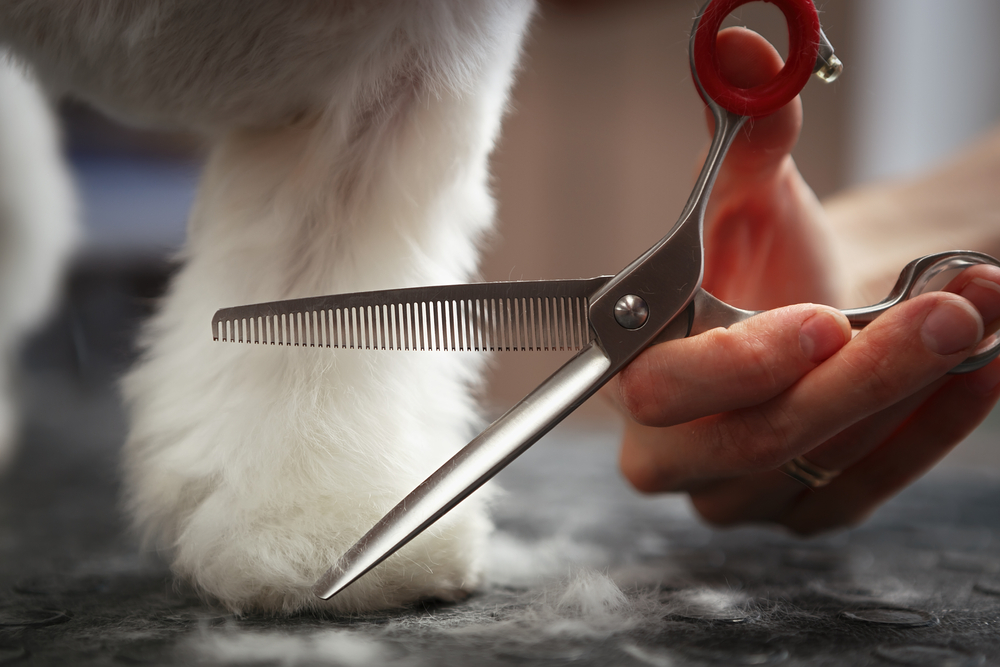 The quiz is a simple, digital set of questions that require yes, no, or maybe responses. This means that in a matter of minutes, you can personally analyse your business performance.
Once completed, you will receive a score based on the suitability of your pricing because of the feedback you provided. Thanks to the mix of financial and customer base questions, you will also receive a detailed set of feedback that focuses on actions that can be taken to implement stronger business strategies.
The information that can be derived from the quiz covers the following areas of operations:
Money Management Intelligence
This category will make you think about what you're charging and whether it is enough for your outgoings.
You may be aware that the average price of a dog groom is £43. When you dive a little deeper, you will see that other factors such as breed, location, behaviours, and age will further dictate the price. This section will ensure you are looking at whether you are charging enough for your services.
Money management is also about understanding how you look after your company's funds. Not everyone is financially minded, so considering whether you have a robust model set up is essential for long-term success. Other factors included to make you think about this contain the frequency of pricing updates, the efficiency of overheads, and profit margins.
Once you have better control of your company's financials, investing wisely and scaling is easier.
Health of Customer Database
With a defined view of the customer database, financial planning will be easier.
This quiz proves that even factors you may not have considered are linked to financial performance. These include online reviews, frequency of bookings, service offerings, and ability to retain customers.
It should also be noted pricing can secure customers or turn them away. By being confident in your costs, customers will be able to clearly see a company's service proposition, which is used when making purchasing decisions.
A consistent customer base is intrinsically linked to profits. This quiz will highlight the areas in which customer success may be lacking and how this should be linked to financial factors when managing a dog grooming business.
Marketing Positioning
This comprises your competitiveness in pricing, how you compare to fellow local groomers, and how your business stands overall in the industry. Based on your responses, you will be provided with feedback on how you can improve your company's rankings.
The questions will also provide food for thought regarding the areas you should be noticing. Keeping your finger on the pulse of industry trends and activities means that your pricing always reflects current supply and demand.
If you are not maintaining relevant costs, when you do come to upgrade your pricing, to be fair, your customers may not be receptive as the gap you have created is too large.
Why is it Important to Charge the Correct Prices?
It is important to be educated about your pricing; otherwise, you will struggle to maintain your passion for being a dog groomer. 
If you are undercharging
Customers may assume that your services are not professional and are less likely to make a booking.
You will struggle to meet the constantly rising costs of materials and labour.
Your work-life balance will begin to struggle as you will likely find that extra appointments are creeping into your designed time off.
You will find it hard to raise your prices to meet the industry standard.
If you are overcharging
Customers will be put off and will turn to one of your priced competitors to complete the task.
Your clients may be more sporadic, making it harder to plan your financials.
You may receive negative feedback online as the price does not meet the expectations of a standard groom.
If you are not charging the right prices, every other element of your grooming company will be thrown out of alignment.
How Can Savvy Software Help Me?
The reason we created this quiz, and our innovative software, is to help groomers manage their business more efficiently. At Savvy we offer a way for dog groomers to automate processes which highlights any issues before they escalate beyond resolution.
The software that we offer can help maintain strong financial performance in the following ways:
–           It offers the ability to book and management appointments.
–           Our own software provides booking and payment reminders that can be integrated into customers' calendars, making it easy to keep on top of pet management tasks.
–           The entire process is completely secure, providing customers with peace of mind and protecting financial aspects of the transaction.
–           It facilitates easy review and feedback, which is important for maintaining strong client databases. 
All the resolutions that can be found after taking this quiz rely on the above examples of operating efficiency to help companies perform stronger.
We want groomers to be around for as long as possible. By taking this quiz, you are given a detailed outline of how your company can improve to achieve just that.
Contact us today to find out more.
Want to read something else? As experts in the world of grooming, dog boarding, and general dog care, our blog features lots of interesting content. Here are a few examples:
Home Boarding for Dogs Licence 2022
What is a Level 3 Dog Groomer?