Are you seeking a new career path and considering becoming a dog groomer? This is the perfect career for those with a creative flair and a love of animals. 
With 34% of UK households owning a dog, it is a high-demand skill and contributes to the £1875 spent on looking at pet dogs yearly.
At Savvy Dog Spa, we believe becoming a dog groomer is a brilliant option that offers plenty of opportunities for business-savvy professionals. That is why we created our intelligent platform, as we wanted to highlight the incredible career dog groomers can have when supported by the right software. 
Continue reading to find out how rewarding choosing to become a groomer can be. 
What Are the Benefits of Becoming a Dog Groomer?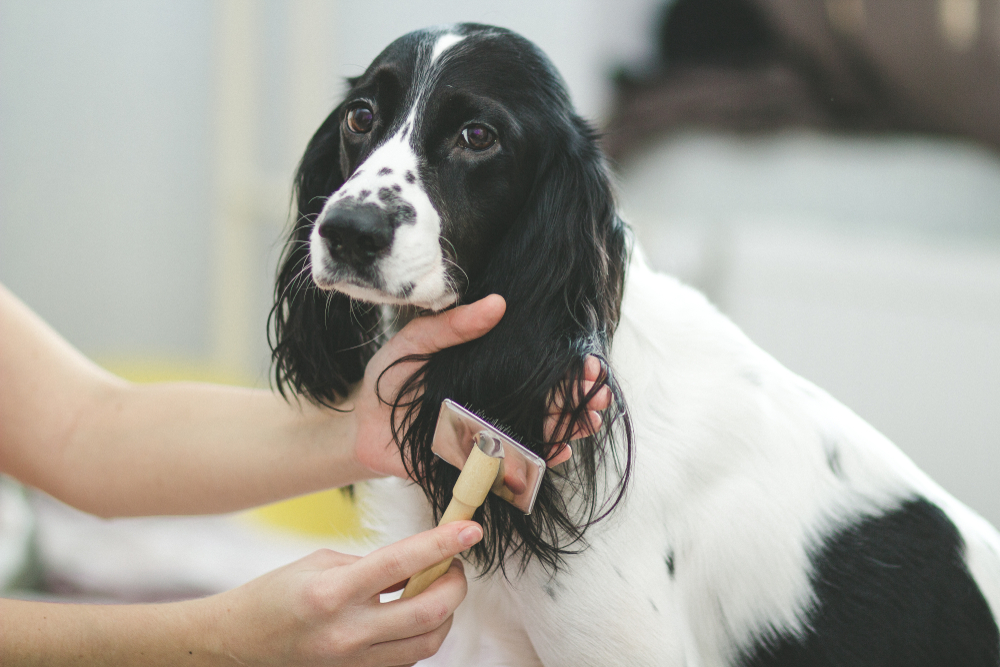 If you are an animal lover passionate about grooming, this is the perfect career for you. Like a happy human client, nothing is more rewarding than seeing a freshly preened pooch feeling comfortable with its groom. This is because grooming is about more than just making a dog look the part.
Below are some of our top benefits for those who choose to take the plunge and become grooming professionals.
You Will Gain the Opportunity to Learn About Many Different Dog Breeds.
If you are passionate about dogs, becoming a groomer is a brilliant career. In the UK, 221 dog breeds are recognised by the Kennel Club, and many other crossbreeds are trotting about throughout the country. 
When you train to become a groomer, you will learn about the various breeds, as they all have individual grooming requirements. This is perfect for an animal-obsessed individual as you get to make a career out of studying four-legged friends. 
Many Dog Groomers Are Self-Employed.
Whilst there is the option to become employed in a salon, dog grooming is an industry that makes it simple to be self-employed. Self-employed professionals can benefit from creative freedom, increased earning potential, flexible working hours, and financial benefits such as relief for certain business expenses.
As the sector is in high demand, there is a clear opportunity within the UK to earn brilliant money as a dog groomer and benefit from being your own boss.
Dog Groomers Contribute to the Overall Health and Wellbeing of a Pooch.
A dog groom is more than just trimming and blow-drying. It is an integral part of the healthcare maintenance of a canine.
During grooming, aspects such as skin, dental, and claw care are included, all of which keep a dog happy and healthy. Many dog owners will also look to their grooming professionals for advice on specific health conditions. In this sense, being a dog groomer is an excellent career choice if you are interested in the medical side of dog care but do not want to proceed with a career in a field such as veterinary care.
It Is a Consistent Career That Is Always in Demand.
People will always need their dogs groomed. It is one of those costs that need to be paid, no matter what other financial requirements arise. This is especially important for high-maintenance dogs, such as poodles, who need regular treatment to prevent any health conditions from occurring.
When you become a dog groomer, you choose a career that will not be replaced by automation or machinery, making it a brilliant choice for long-term job health.
How Much Money Can Dog Groomers Earn?
When considering if dog grooming is the career for you, it is also important to assess the financial side of things. How much self-employed dog groomers earn can fluctuate depending on how much creativity is injected into a business. 
The average base salary for a UK-based dog groomer is £24,101. This can be increased further by adding clever efficiency solutions into a company that can elevate earning potential. 
An example is using the Savvy Pet Spa software to automate calendar bookings. This might sound simple, but it can make a noticeable difference in business profits. When appointments are booked without manual administration, all dog groomers' time can be spent with their clients, not having to worry about management duties. 
There is also the option to increase earnings by creating add-ons by supplying your own grooming products. The world is your oyster, as people are willing to spend money on their pampered pooches. As a dog groomer, it is your role to provide products and services that pet owners want to benefit from. This means you are in control of your full earning potential, which is exciting!
Our software is perfect for helping businesses grow so click here to find out more about how you can scale a pet grooming business.
What Long-Term Opportunities Can Dog Grooming Offer?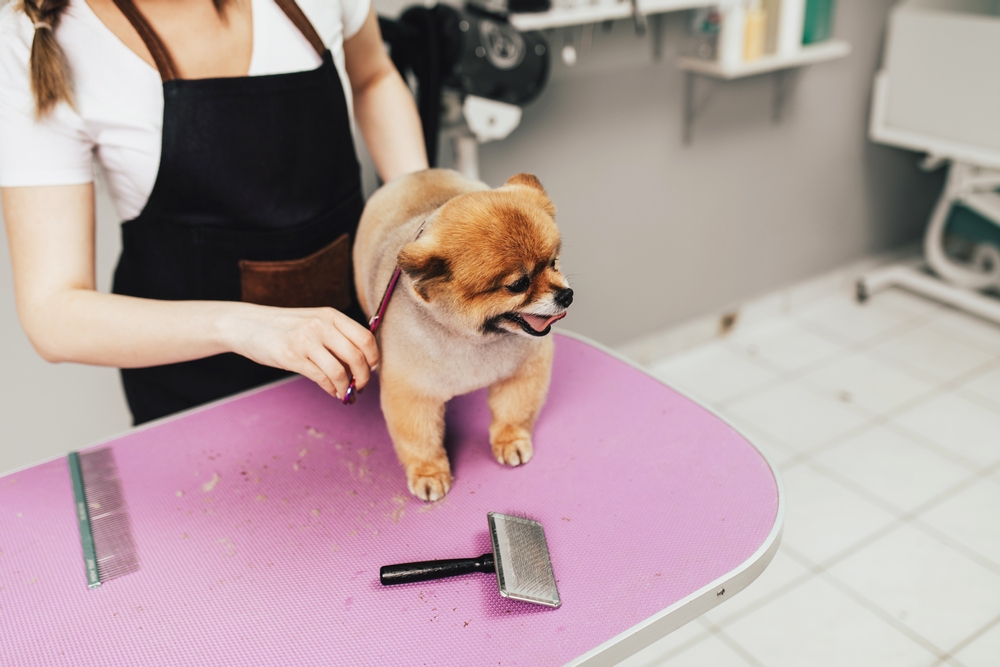 Become a grooming trainer.
If you have spent some time grooming and are ready for a new challenge within the same field, becoming an instructor could be your option. 
Those with dog grooming experience, a City & Guilds Level 3 Diploma in Dog Grooming and some teaching experience can become certified grooming trainers. Plenty of training schools across the UK are always looking for instructors, or you could carry out the role as self-employed. 
Hire a team and expand your operations.
If you want to remain close to your business but spend less of your days carrying out grooms, hiring a team to work with you is a great idea.
Use your skills to become a professional in other areas of animal care.
After working as a dog groomer for several years, a professional will have extensive experience and knowledge of animals. This means many transferrable skills can be applied to other roles within the animal care industry that may command a higher salary. An example of this could be continuing qualifications to become a dog trainer or behavioural expert.
In summary, becoming a dog groomer is not just a superb career option in the present, but it also offers lots of ways to upskill and change professions in the future.
How Can You Become a Dog Groomer?
Whether you want to run a dog grooming business from home or work for an existing salon, you will first need the right qualifications. 
The National Careers website states that a Level 2 certificate for dog grooming assistance, Level 3 in dog grooming, or a Level 4 higher professional diploma in dog grooming are all valid options. Once you have any of these, you will be able to start officially grooming and show your clients that you are a professional option for them to trust their much-loved pooches with. 
The abovementioned qualifications mean that professionals can choose to carry out all forms of dog grooming or specialise in certain areas. This is another reason that dog grooming is a good career path, as it offers flexibility. Whether you want to operate in a niche with a specific breed, only offer medical grooming treatments, or become a training instructor with the standard dog grooming qualifications, the world of dog care is open to you.
How Can Savvy Pet Spa Assist Dog Grooming Professionals?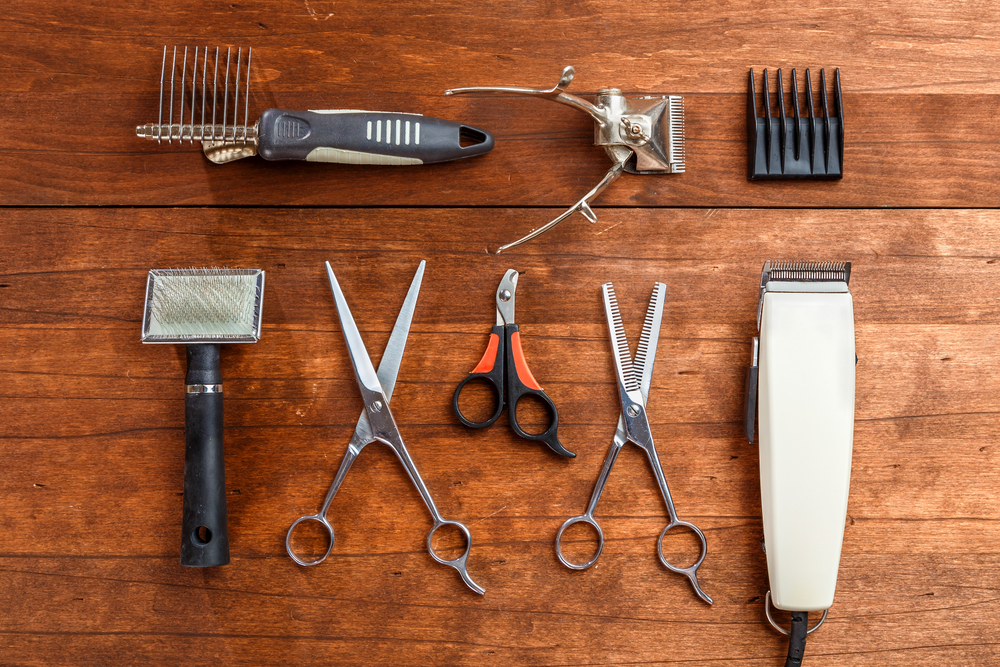 Savvy Pet Spa is a grooming professional's dream!
The easy-to-use software means that dog groomers can benefit from all the positives mentioned in this article with no roadblocks getting in their way. As with any career, is not managed correctly or subject to distraction, development can be hampered. With Savvy Pet Spa, a grooming professional must focus on the creative sides of a business and not worry about admin. 
24/7 Bookings, automated reminders, and full calendar management keep a business running efficiently so that energy can be spent on the job at hand (looking after those furry little ones!).
100% No show payment protection, deposit requests, and invoice management to ensure that profits are never lost due to late or missed payments. Dog groomers have the potential to make a strong salary, and we don't want anything getting in the way of that.
Customer subscriptions and repeat bookings management allow grooming professionals to create a roster of dedicated customers, which means they are always in business.
Full personalisation features mean business owners can align their Savvy Pet Spa software with their brand image. This supports the growth of long-term businesses, offering more opportunities along the career path associated with being a professional dog groomer.
Are you convinced that becoming a dog groomer is a career for you? As we have highlighted, there are many opportunities for dog groomers who are willing to think outside of the box. Plus, who wouldn't want to spend their days working with a man's best friend?
Savvy Pet Spa is the ultimate grooming booking software that can help support a successful career path within the grooming industry. Prices start from just £35, plus we offer a free trial and cancel anytime contracts. Request a demo today to find out more.
Want to find out more? Check out some of our recent blog posts:
It's all Savvy Continues to Innovate the Dog Care Industry with the Launch of Two New Services