Are you considering becoming a dog groomer in the UK? If you're a lover of all things dogs, then becoming a dog groomer is the pawfect job for you. If you're wondering if you can earn good money as a dog groomer, then the answer is yes, especially if you start your own business or work on a self-employed basis.  
One of the best ways to run a dog grooming business is to have an appointment and business management system to save you time and increase your profits. Savvy Pet Spa offers a fully personalised system for pet groomers that is easy to use and specially designed to manage and grow a business.
In this article, you will learn more about what Savvy Pet Spa can offer you, the money you could make as a dog groomer and how to get started on your new business venture.  
What do dog groomers do?
Before embarking on your new venture, get to know what the job will entail day to day. Being a dog groomer is physically demanding work and you will be on your feet for most of the day and you could be handling quite sizeable dogs too. 
A dog groomer is responsible for keeping a dog's coat and nails in good condition. The typical tasks that a dog groomer will carry on a daily basis include bathing dogs, brushing, drying, trimming or clipping fur and nails.
A dog groomer not only looks out for a dog's hygiene with physical services, but a good dog groomer is also knowledgeable and able to offer dog parents advice on products and hygiene tips to help keep their dog clean and decrease the risk of infection.
Is there a demand for dog groomers?
Yes! 2019 saw a significant increase in the population of household dogs as thousands sought canine companionship to see them through the isolation period. The number of dogs in the UK has risen from 6.2 million pre-pandemic to 10.2 million. This is excellent news for the dog grooming business because there is more demand now than ever.
Most dog owners turn to professional dog groomers to keep their dogs looking fresh and clean because it isn't an easy task and requires a specific set of skills to do the job properly. This is why the dog grooming industry is booming and now is an excellent time to get involved.
Can dog groomers make good money?
The average dog groomer's salary in the UK is £22,152 annually, with more experienced workers earning around £26,328. However, self-employed dog groomers can make even more money because they can set their own prices.
If you're considering dog grooming as a career, working for someone else's dog grooming business can help you get the experience you need in the industry. On the other hand, setting up your own business or working on a self-employed basis allows you to earn more money over time.
So, the answer is yes. Dog groomers can make good money, especially if they work for themselves. Dog groomers that start their own businesses build up their clientele over time to groom several dogs a day. Some dog grooming business owners expand even further and open multiple dog grooming salons and take on more staff, bringing in more money. From there, the sky is the limit!
Dog grooming business costs.
If you are planning on starting your own dog grooming business, financial aspects need to be considered before you can start making money. You will need to invest in specialised equipment, supplies, insurance, get the proper training and find suitable premises, which all cost money.
There are ways to cut costs when starting out, and operating your dog grooming business from home is one of them. Set-up costs vary depending on the scale of the business you plan to open. If you start small, your costs will be lower; if you start big, your costs will be higher. Think carefully about what you can afford to invest in your start-up business and go from there.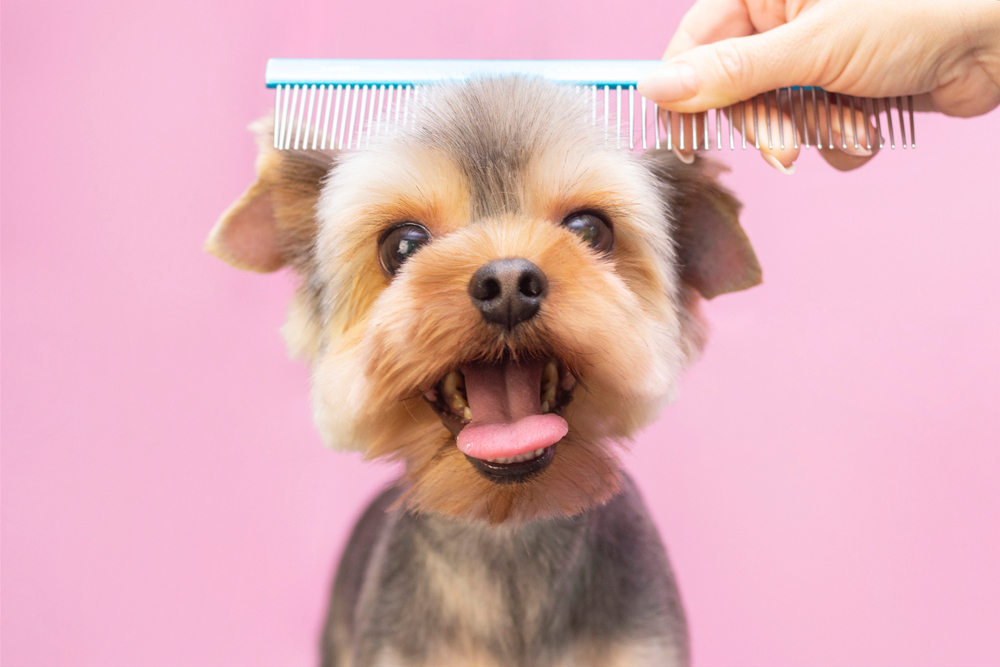 Essential equipment costs.
Here is a list of essentials to give you some of the equipment and supplies you will need to get you going as a dog groomer. 
Shampoo- this is incredibly important when running a dog grooming business to get your pooches all perfect again. Since you will use this daily, it's a good idea to stock up—dog shampoo costs, on average, £25 per 4l bottle.
Clippers- are essential for a dog groomer's standard tool kit, so make sure you choose a good quality pair to save you from buying twice. The average price for a pair of clippers is around £200, but prices vary greatly.
Clipper blades- once you have found the perfect clippers, you will need clipper blades. The clipper blade is the part that moves up and down quickly to cut the dogs' hair. Blades are numbered to indicate what length of hair they will leave. The average clipper blades cost around £30 but vary in price due to their different sizes.
Nail clippers- a dog groomer not only keeps dogs' fur neat and tidy, but they care for and maintain their nails to keep them free from infection. Nail clippers cost around £18 for a set of 3.
Combs- you will need a good set of combs to de-tangle the fur before cutting, and you will need them again for styling. A set of good combs cost around £20.
Scissors- dog groomers use scissors to restyle and reshape after clipping. There is a vast range of scissors to choose from but to cover the basics; you will need a pair of straight, curved and thinning scissors. A set costs around £250 but differs significantly and can even go up to around £1000.
Bath– the bath is essential in dog grooming to get your furry friend all clean and smelling lovely. Again, there is a huge range with varying prices, but they cost around £200-£400.
Dryer- these are used to dry the dog after a good soak in the bath, so they're ready for grooming. These cost around £200-£800 each.
These are just some of the essential equipment and supplies you will need to start your business as a dog groomer. Since equipment prices vary greatly, you can invest in what you need using a small budget and build on it as your business grows.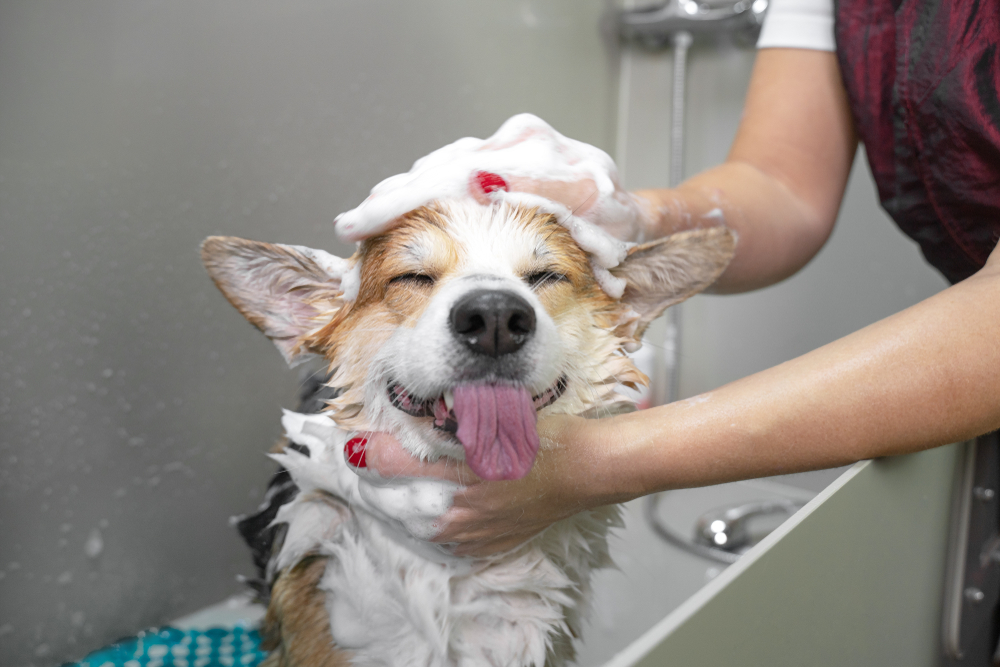 Starting a dog grooming business.
Starting a dog grooming business doesn't need to be intimidating. Starting any business can seem daunting at first, but running your own successful business can be extremely fulfilling, especially if you're doing something that you love. Here is a checklist of what you need to do to get started.
Write a business plan; the more detail, the better.
Decide how you will operate, for example, your pricing structure, number of clients, premises etc.
Create a brand identity.
Get the correct insurance.
Invest in equipment and supplies.
Complete the relevant qualifications and training.
Promise and advertise your business.
You will need patience and determination to make your business successful. Fully commit to your idea, and before you know it, you could be running a profitable dog grooming business. Once you have put in the groundwork and built your reputation, brand and client base, it's time to scale your pet grooming business and here is where Pet Savvy comes in.
When you're bursting at the seams with increasing requests, you need suitable processes that allow your business to perform well under your expanding workload. Our Savvy Pet Spa management system for pet groomers enables business owners to manage appointments, customer information, contracts and billing in one place.  
Professional dog grooming requirements.
Whilst there aren't any set dog grooming qualifications, taking an accredited, recognised dog grooming course shows dog owners that you know what you're doing and are more likely to choose you to groom their furry friends.
Completing a course will give you the knowledge and skills to become a professional dog groomer. You will learn how to trim and style different types of coats, dog washing, dog transportation, health and safety, and how to organise appointments and handle payments.
Final thoughts.
For more information on what Savvy Pet Spa can offer you, read how we continue to innovate the dog care industry with our services.