What is Level 4 Dog Grooming
If you are a dog grooming expert looking for the next step in your career, then the Level 4 Higher Professional Diploma in Dog Grooming from iPet Network is perfect! Helping you perfect those paws and ensure waggy tails, the diploma offers a way for groomers to deepen their knowledge of all things canines.
The UK pet grooming market is worth around 21% of the global market, showcasing just how much importance we put into looking after our four-legged friends as a nation.
At Savvy Groom School, we offer training in association with the iPet network as we believe these are the best on offer for professionals who want to make their dog grooming business a success.
Are you interested in completing this diploma? Carry on reading to learn all about this pet grooming essential.
What Is the Highest Dog Grooming Qualification? The Level 4 Higher Professional Diploma in Dog Grooming.
As is the case for all other forms of diplomas in the UK, the higher the level, the more qualified a professional that completes it will become. Dog grooming is no different to this rule.
Whilst dog grooming qualifications are optional, you will find that customers will be more inclined to book your services if they see proof of a diploma having been completed. This is because dog grooming qualifications do not just teach a groomer how to carry out physical grooming but also educate them on elements such as pet wellbeing, behaviour, and healthcare.
There are various level 3 dog grooming diplomas in the UK, but the iPet Level 4 diploma is the only one available at this high level.
Why Was the Level 4 Dog Grooming Diploma Developed?
The level 4 diploma provides a deeper understanding of the core elements involved in dog grooming. The course focuses on pet styling in terms of specific breeds and wellbeing factors that should be considered. This is important as dogs are groomed for aesthetics and to benefit their wellbeing. Alongside the grooming element, the course is designed for diving deeper into pet behaviour.
We are advocates of this diploma as it also focuses on business operations and professional development, two elements we hold as highly important. Balancing growth and service quality are two major concerns for small business owners. This diploma aims to alleviate these worries by educating groomers on how to execute a fantastic service level while elevating their overall business performance.
What Units are Included Within the Level 4 Higher Professional Diploma in Dog Grooming?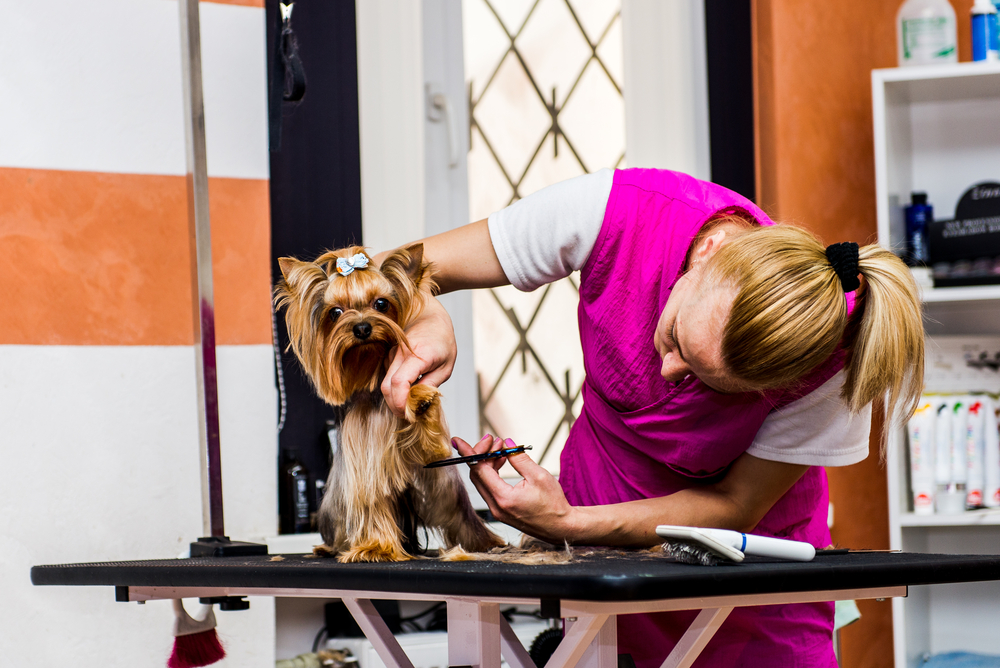 Included within the prestigious qualification are the following units:
403: Canine Care and Welfare – This focuses on the reason behind certain parts of a groom and educates professionals on how they can provide care-based treatments. The unit also deepens the groomer's understanding of welfare issues, giving them the tools to determine if a dog needs care beyond their means.
404: Professionally Style a Range of Dog Breeds – From short hair dogs like Chihuahuas to extra-fluffy Poodle breeds, each dog requires a unique experience when they visit the grooming salon. Level 4 teaches groomers how to offer more bespoke services to the various species they encounter. This includes both show grooms and everyday trims for coat management purposes.
405: Canine Behaviour Management – Understanding a dog's behaviour is important as it allows a groomer to provide a better quality of service. Whether it means tailoring treatment for a better result or carrying out some behavioural training to help the dog outside of the grooming room, professionals need to be able to read a dog perfectly.
406: Managing a Dog Grooming Business – Every element, from the branding of a business to the customer experience, will impact profits. This unit gives business owners the skills to manage a company seamlessly. We also advocate this at Savvy Groom School through our intelligent bookings software.
407: Personal Professional Development – A big part of any business is the people offering the services. In grooming, professionals must develop their personal skill sets to manage a thriving business best. This unit covers all the way that a dog groomer can develop their skills in both the business and styling side of providing grooms.
408: Roles and Responsibilities of a Canine First Aider in the Workplace – This includes all aspects of pet first aid to ensure that if a groomer runs into issues, they can administer the care needed instantly. Suitable for both self-employed professionals or groomers that are employed by a salon who want to assume a more senior position.
409: Canine Health and First Aid Emergencies – Again focused on delivering life-saving care, this is an important aspect of operations to consider as it will prove to customers that you are a responsible person to leave their dog with.
What Are the Benefits of Completing the Level 4 Dog Grooming Diploma?
Improved Expertise and Knowledge
We often get asked, "Can I run a dog grooming business from home?". For many dog groomers, having the skills is one thing, but knowing how to operate confidently is another challenge.
The level 4 diplomas improve grooming and business expertise, ensuring groomers feel empowered to elevate their businesses.
Furthermore, having a deeper level of expertise in pet care also provides a competitive advantage that will set the groomer apart from the rest. Owners want to know they are paying for a service that will make their dogs look and feel amazing. Showcasing adherence to the level 4 diplomas is an excellent way of achieving a high level of service.
Professional Development
This is a huge benefit as it means groomers have the tools to scale a pet grooming business confidently. Professional development also improves other aspects such as competitiveness, client retention and overall business success.
Understanding of Canine Behaviours
Demonstrating a professional understanding of canine behaviours means customers are likelier to choose you as their groomer. Knowing that a dog will feel 100% comfortable is essential, especially when having a groom can be a stressful experience for those who are not used to processes.
Marketing a grooming business suitable for troublesome or nervous breeds also offers the groomer a niche they can make the most of.
Do I Need the Level 4 Dog Grooming Diploma?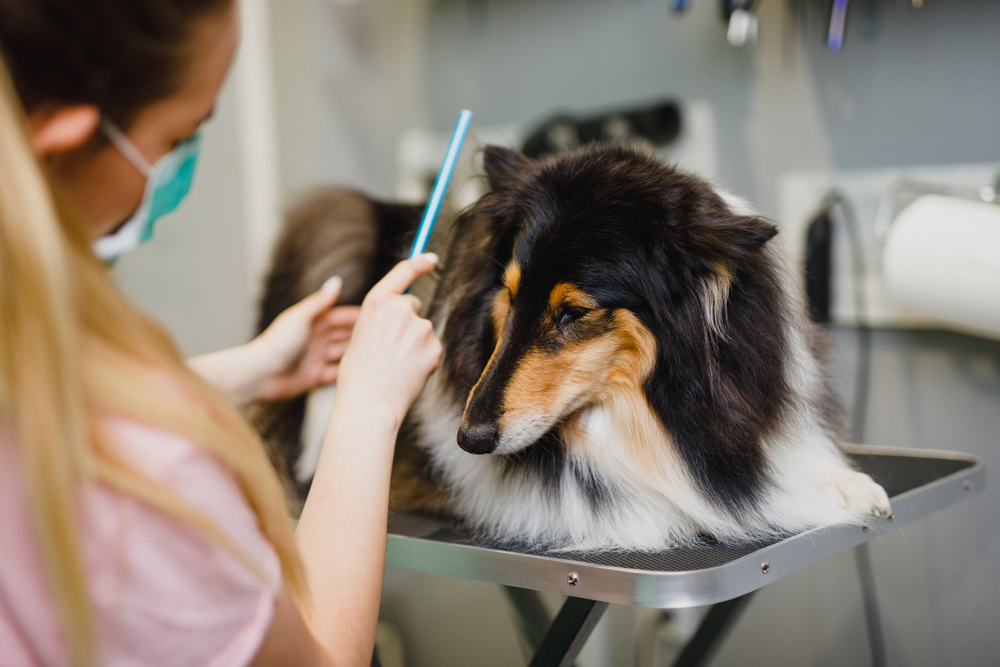 The level 4 dog grooming diploma is optional, but we highly advise that you invest in achieving this qualification.
Why? Not only will it allow you to become the best possible groomer, as we have mentioned, but the benefits to a business are also plentiful. This means that self-employed dog groomers can earn more money as the profits land directly in their pockets.
It is also advisable to achieve this diploma to further your vocation within different dog care areas or other business industries. The transferable skills can be applied to many other career options you may want to make the most of.
By investing in yourself now, the future you will undoubtedly benefit.
How can Savvy Groom School Support My Dog Grooming Business?
If you want to achieve the level 4 dog grooming diploma, it can be achieved with the support of Savvy Groom School.
The newly relaunched Savvy Groom School app includes a list of all grooming schools that offer this diploma in the UK. Within the application, training sessions can be managed to ensure that students and educators can automate processes and spend more time on what matters, learning how to provide the best level of care for canines.
From just £100 per month, grooming schools can use the software to manage the administration of student report cards, course management, unlimited use of automated communications, CRM integration, and calendar management, including onward communications.
To learn more about how to find the perfect level 4 dog grooming diploma or to advertise your course if you are a registered trainer, click here to request a demo.