Dog groomers are the beauticians of the canine world; keeping dogs' coats in good condition and giving owners advice on hair care, grooming and diet are a dog groomer's primary duties. Dog grooming is an excellent career choice; it is fun and rewarding, and the four-legged fury friends will undoubtedly keep you on your toes.
If you're a dog lover, interested in canine welfare and want to pamper the most commonly owned pet, there are a few things you should learn first to be successful. But do you need qualifications to be a dog groomer?
No official qualifications are needed to become a dog groomer; however, to become a trusted, reputable dog groomer, it's a good idea to do some training first. You wouldn't want a hairdresser to trim your locks without doing any training first, so neither would any pooch or their owner.
Taking the time to train professionally means you can offer a more premium and professional service. An accredited course will help you grow in confidence and learn the craft and tricks of the trade. Customers are more likely to trust you with their beloved best friend.
So, where to start? You're likely to have questions.
How long does it take to qualify as a dog trainer? How do I start a career in dog grooming? Is dog grooming a difficult job? What skills do I need to become a dog groomer? Is being a dog groomer worth it?
This article gives any aspiring dog groomer the answers they're looking for. We at It's All Savvy are here to support you along your journey.
A Guide to Professional Dog Grooming
As a dog groomer, no two days will be the same as every dog (just like humans) have different needs. Not only will you need to become a dog whisperer to deal with a range of canine temperaments and personalities, but you'll also need to become an expert in dog coats and skin.
The usual duties of a dog groomer are to bathe, comb and trim a dog's coat. A great dog groomer will also offer the dog owner good fur care advice and recommend products that suit the type of coat for their dog.
Many dogs can be prone to skin conditions. A reputable and knowledgeable dog groomer can spot the condition and provide the owner with tips or skin care products to improve the condition.
The general duties of a dog groomer are:
building a rapport with the dog and its owner to understand the dog's requirements,
bathing, drying and general pamper pooch services,
checking the coats and skin for infections,
carrying out basic health checks on their teeth, paws etc.,
communicating concerns, advice and recommendations with the owner,
offer additional grooming services such as nail clipping, ear cleaning or teeth brushing.
You might also be wondering how much you can earn as a dog groomer. There are many factors to consider for self-employed professionals but the average salary for an entry-level dog groomer is over £21,000 and can rise to an average of over £26, 000. Of course, sole traders have the ability to increase their earnings.
If you're considering working for yourself, you must have the right insurance, adequate space to work with all specialist equipment and an efficient system to keep track of all records, including customer appointments and details.
Savvy Pet Spa offers an easy-to-use appointment and business management system specifically designed for pet groomers. Our system will save you time and increase your profits, so it's a way to set your business off on the right foot (or paw).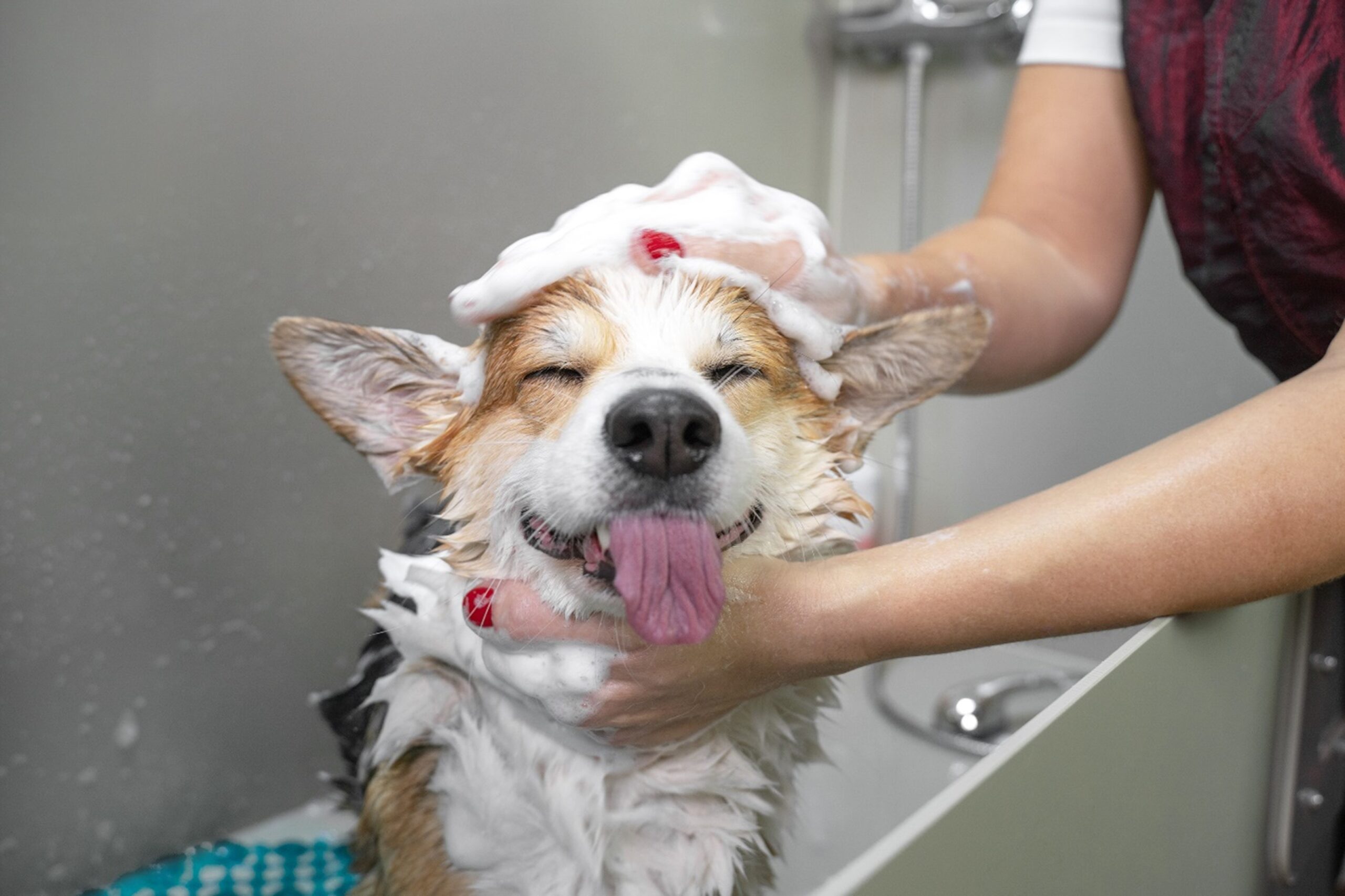 Skills Needed to Be a Dog Groomer
Being a dog groomer is a rewarding job, but it is important, too, as you will play a key role in maintaining the health of the animals you tend to.  
It is necessary to complete a dog grooming course, so you're equipped with the skills needed to correctly trim and shape a dog's fur so that it can go from shabby to chic. But being handy with scissors is only part of what's needed to do a job well done.
A good dog groomer needs to:
be knowledgeable about different breeds of dogs,
have patience, be calm and nurturing for nervous dogs,
have excellent attention to detail,
be a good communicator,
keep to a strict schedule and be well organised,
the ability to work under pressure,
and work as part of a team and independently, depending on the working environment.
How to Start a Career in Dog Grooming
Whether you're thinking of going it alone or becoming part of a team of dog groomers, it can be challenging to know where to begin. Here is your step-by-step guide to getting started in the dog grooming business.
Get to Know the Industry
The best place to get started is to experience all things dog related. Try your hand at a dog kennel first or get some work experience as a dog groomer's assistant. Even dog walking and sitting would be a great experience to gain before jumping into dog grooming.
If you're considering a career in the dog industry, you probably have your own furry friend. Take careful notice when taking your dog to the groomers; ask if you can observe their process and ask them questions about the job. This will give you a real insight into the day-to-day role of a dog groomer.
Understanding dog behaviour is crucial if you want to work with these animals day in and day out. Furthermore, getting your name out there into the world is dogs is an excellent way to make contacts when the time comes to build your business or if you choose to join an already established team.
Weigh Up the Pros and Cons
Ensure you're fully prepared for the industry you're about to enter. Presumably, you want to become a dog groomer because you love dogs (who doesn't?), but you need to make sure that you're up to the job's demands, too, as it isn't all doggie cuddles and treats.
You must ensure the dogs are as comfortable as possible when visiting your doggie beauty parlour. Dog grooming can entail long hours on your feet, and physically handling dogs of all shapes and sizes is demanding. Sometimes, you might be dealing with a nervous dog or one with specific needs. 
Study a Professionally Accredited Course
To become a knowledgeable and reputable dog groomer, it's necessary to undertake a professionally accredited dog grooming course to ensure you have the right skills and experience needed to do the job.
A great place to start is to ensure the course you're considering is accredited by a reputable organisation such as City and Guilds or the Pet Industry Federation.
You will be awarded a certificate upon completing a professional dog grooming course. Many courses vary from beginner to advanced, starting at level 1 to level 3.
As part of the course, you will learn all the skills needed to do the job, such as trimming, styling, and dog washing, as well as other elements that you may not have considered, like health and safety, transporting animals or handling payments and appointments.
The time it takes you to complete a course varies from course to course. Therefore, it is a good idea to research and ask different course providers what they can offer you.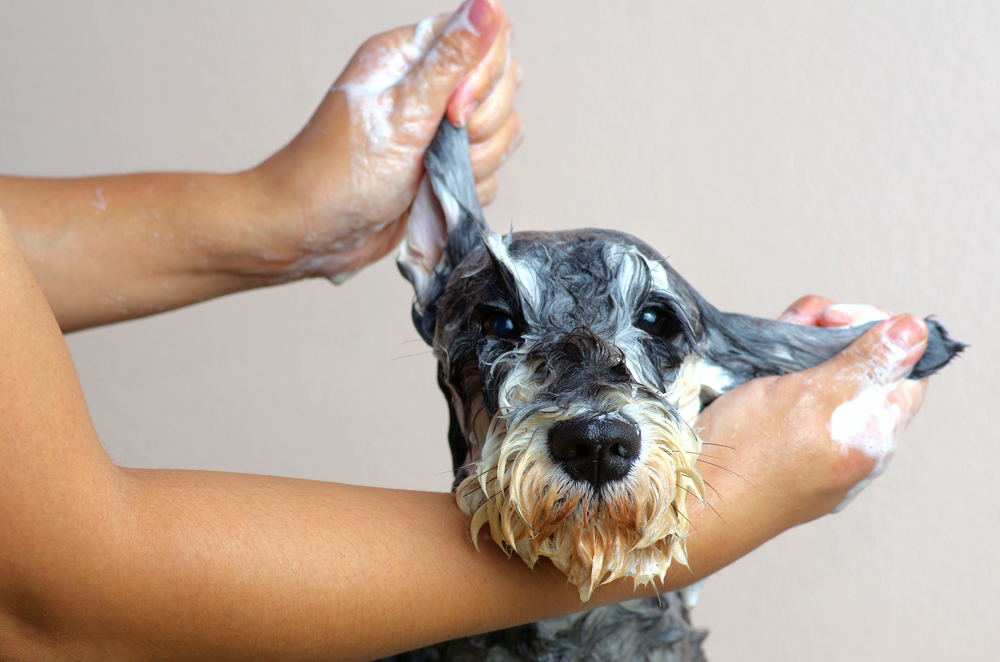 Decide On Your Niche
As with any business, you must create a reputation and develop a niche, so potential clients know your expertise precisely. Will you specialise in a particular breed of dog or a dog with long or short hair? Will you specialise in a type of cut or method of working? You may want to appeal to the eco-warriors and use only environmentally friendly and natural products.
Whatever your niche, you want your name dropped into the conversation between dog owners on their next walkies.
Create a Business Plan and Budget
If you plan on working for yourself, you need a plan and a budget. Consider the start-up costs of your business and calculate your total spend for premises, equipment, and insurance, for example. 
It's also a good idea to have a plan in place for how you will attract potential customers and how you might advertise your services as one way to scale your pet grooming business.
Consider Business Insurance and Legal Requirements
Don't leave anything to chance. Remember that people entrust you with their precious animals, so all reputable and trustworthy dog groomers should have pet insurance if something goes wrong.
Regarding qualifications and licencing, no legal requirements exist to become a dog groomer. However, you can still be compliant in other ways.
Brush up your knowledge of the Animal welfare act because, as a dog groomer, you have a duty of care to any animal under your supervision to ensure that no pain or harm comes to them.
In addition to specific dog grooming compliance, if you're starting your own business, there are legal requirements to abide by, such as informing HMRC of your employment status or the control of substances hazardous to health (COSHH) policy.
Buy Professional Dog Grooming Equipment
Now you need to make sure you have the right equipment. Here is a list of some of the specialised equipment that you will need to become a dog groomer:
grooming table
clippers and nail clippers
brushes and combs
bath
dryer and towels
pamper products such as shampoo and conditioner.
Is Being a Dog Groomer a Difficult Job?
Finally, you might be asking yourself if the job is a difficult one. Is the job worth it? Is there a demand for dog grooming, or is it profitable?
Whether you work for an established dog grooming business, run your dog grooming business from home or on commercial premises, your visitors are sure to drive you barking mad. Watching beautifully preened pooches leaving your premises with their happy owners makes the job worth it.
Dog grooming is a growing market, with more and more people investing in furry friends. Many dog groomers make a good living in the profession. With the proper training, skills and experience, there is no reason why you can't make a success of it too.