With the UK having over 30% of households owning one or more dogs, as well as dogs being the most popular pet in the UK it is no surprise that dog grooming services and the general pet grooming industry are projected to do well.
In this blog, the team here at Savvy Pet Spa are here to help those who may be wondering 'How much does it cost to start a dog grooming business?'
With the aforementioned statistic, being a qualified dog groomer, even on a local basis can prove to be a valuable service and for those who love dogs, it is a perfect job! But it isn't simple for this to become your business, as there are costs to pay in order to be an established and respected business within this industry.
We will be answering this question by providing you with further insights along with explaining our excellent service that can help facilitate any budding pet groomer.
What is the need for dog grooming?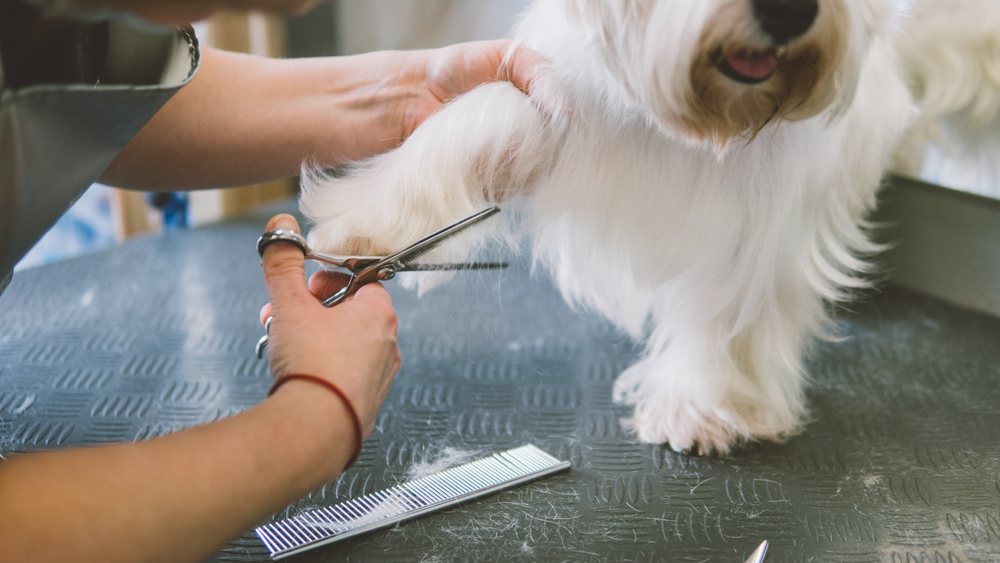 For any domesticated animal with fur, grooming is vital in order to ensure the animal's health, both physically and mentally, is not negatively affected. Grooming your pet also improves their quality of life, dogs are no exception.
Why do dogs need grooming?
In the same way, we as people need to organise ourselves by cleaning our skin, hair and nails, your dog needs this too. Though the reasoning is slightly different, as dogs don't have the capacity to maintain the length of their fur or nails independently.
Dogs, especially those with long fur, need to be groomed. This includes cutting, combing & shampooing & conditioning the fur, either all in one grooming session or separately.
If left unattended, not only can your dog's fur become matted which will cause your dog pain and discomfort, but it may also end up smelling or causing opportunities for infection on exposed skin that are irritated due to the matting.
For some particularly furry breeds, their fur may cover their eyes, reducing their overall range of eyesight. This can also make the dog accident-prone, resulting in you taking them to the vet.
Even a dog's paws can grow too much fur, which makes it difficult for them to run on smooth surfaces without them slipping, and long nails can impede their ability to walk normally, as well as make it easy to scratch you.
Do all dog breeds get groomed the same?
Some breeds require an extra level of attention when it comes to grooming, let's take pugs for example. A pug's main feature is its flat face, but did you know that its face has trouble removing impurities around the eyes or nose? If left unattended this can affect the pug's quality of life, so regular grooming is paramount for some if not all breeds.
How much does it cost to start a dog grooming business?
There are quite a few factors you should consider before starting a business in general, click here for a brief overview of some costs to consider. Please note that some of these things are subject to the area you are in, hence why there is no set cost.
In regard to a dog grooming business specifically, here is a list of just some of the things you have to consider when it comes to costs.
Equipment – grooming equipment, animal-friendly hairdryers, cones, helmets & headbands and much more.
Supplies – Shampoo, conditioner, and other grooming products required for dog fur
Treats – Some dogs need a little treat in order to behave or be calm.
A Space to groom the dogs (and no, a bathtub does not count!) – Whether you buy or rent this space, it will be a big cost to consider
Staff
Training – You may have to pay for some courses in order to learn the whole process of dog grooming in a correct manner, especially if it results in a qualification.
Legal costs i.e Insurance
There are likely more costs to consider to become a professional dog grooming business. Creating a business plan, with the research of the costs you will incur as a result of having this as a business is the only way you will be able to do this.
Research can be in the form of speaking to dog grooming business owners. (ideally not locally as they may feel uneasy about giving advice to a potential direct competitor) Of course, researching online is also a helpful tool.
What is the best way to organise a dog grooming business?
Dog groomers are in high demand, but so are the number of available services. This is, however, balanced by the fact that there are more dogs than groomers in the UK, meaning that there are enough pampered pooches to go around for everyone.
This means there is also the option to expand your business and take on additional clients by hiring new people. Whatever option you choose, many people are looking for talented dog groomers.
Your solution? The Savvy Pet Spa appointment and booking system.
Savvy Pet Spa
We help groomers secure the dog grooming clients available in their areas by offering an elevated online system which makes it simple for owners to match with their perfect grooming business. 
Our pricing starts from just £35 per month and offers the following benefits:
To Business Owners
100% no-show payment protection, as we understand that missed appointments can be detrimental to the long-running success of businesses.
Booking systems that can be tailored to suit your own company hours. These also gather all essential customer information and align directly with your internal systems.
Customer subscriptions improve the chance of repeat bookings and also allow you to implement other marketing measures, such as loyalty schemes or special offers, with complete ease.
Automated reminders for customers so that appointments are not missed. This also means that business owners can save time on checking their diaries daily and sending out reminders which can take up valuable time that could be spent fitting in an extra client!
Secure operations which protect both business and customer data.
Review reminders and the ability to create a digital presence online boasting strong testimonials and client feedback, a strong form of marketing in itself.
A cost-effective way to combine multiple administration and security tasks through just one supplier.
To Pet Owners
Simple online booking and reminder service which is perfect for busy lifestyles. This also aligns directly with calendars to ensure that appointments are not missed.
Efficient payment methods which can be automated and securely managed.
Peace of mind thanks to the professional and secure booking system.
Ease of communication with the chosen grooming business as bookings can be updated and amended easily.
Automation is the future for most industries, and dog grooming has not escaped this technical trend. We have created a system which benefits both business owners and clients in a way that will suit business operations during the coming years in which the need for groomers will continue to increase.
Start your Dog grooming business today
In this article we hope to have shown you the avenues you can take to become a dog groomer, as well as answer other questions you may have. Our mission is to help groomers take their business to the modern consumer through our simple-to-use and highly acclaimed platform.
Savvy Pet Spa is here to help you get more clients, and less admin, by streamlining the service that you can offer, your potential is greatly improved & our aim is to help you help others.
We hope to have addressed the question 'How much does it cost to start a dog grooming business?' Got some more questions? Check out our blog page for some additional information.