If you're considering a career in dog grooming, you're probably wondering about the best dog grooming qualification. In this article, we provide an introduction to dog grooming, including the roles and responsibilities of the job, as well as details about training and qualifications, including costs and training providers.
You not only need to love dogs, be a happy, gentle, kind and caring person to be a dog groomer, but you also need to know what you're doing, and getting some training from a reputable, accredited course provider is the best place to start on becoming a dog groomer.
Dog groomer responsibilities
But first, what is a dog groomer? What does a dog groomer do? You need to know the answers to these questions to understand what the job entails and decide if dog grooming is a good career path for you.
 For dog lovers, dog grooming is the ideal career choice, and it has many benefits and can be very rewarding. But it can be challenging too. Dog grooming is a physical dog and you will be on your feet all day, potentially handly big dogs so you need to make sure you're physically up to it.
Here is a list of just some of the roles and responsibilities of a dog groomer:
Bathing and clipping dogs and knowing how to conform to different breed styles.
Detangling and removing matted fur.
Checking the skin for irritation and parasites.
Nail trimming.
Cleaning ears, eyes and teeth.
Expressing anal sacs.
The primary responsibility of a dog groomer is to look out for the well-being of the animals in their care, to pamper, protect and look after the dogs and hand them back looking lovely, clean and fresh. Dog groomers must report any concerns to the owners, such as infection or irritation, so they can get the animal looked at by a qualified vet.
Dog grooming qualification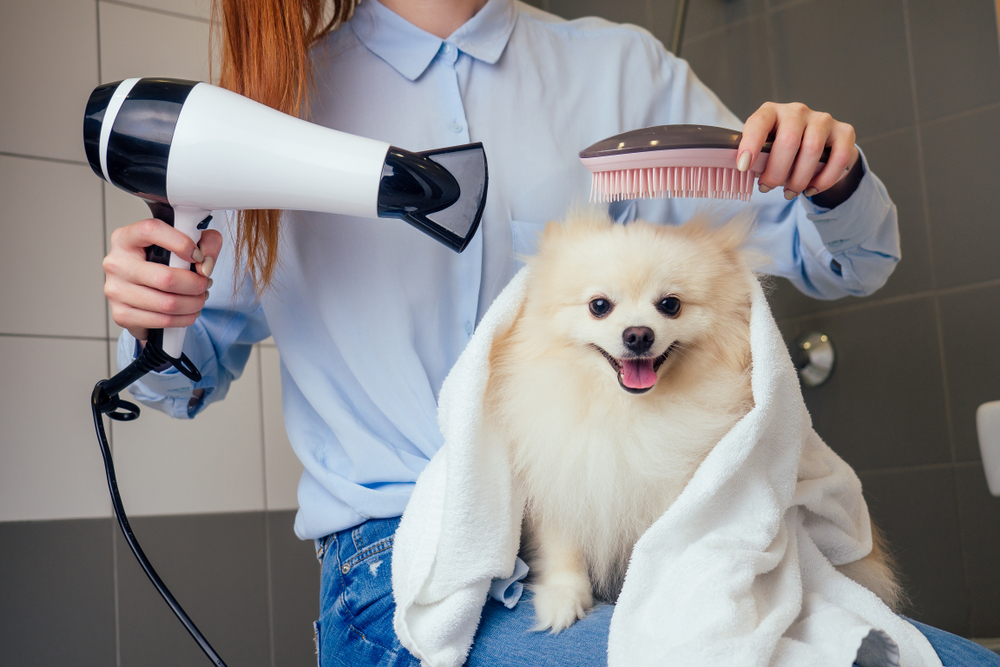 Whilst no official qualifications are needed to become a dog groomer, you must get some training to know what you're doing. By completing some training, you will also stand out from the crowd and slow potential employers and customers that you're a serious dog groomer.
There are many different courses that you can take to learn how to groom dogs, so it's essential to do your research into which course is best for you. What is right for one aspiring dog groomer may not be suitable for you. Consider what you want to learn, what you want to achieve and your future as a dog groomer before jumping into a course.
Dog grooming training
Most dog grooming courses start at level 2 and progress to levels 3 and 4. In some cases, there are courses for master dog grooming, too, but these are less common. It is up to you how far you want to take your training, but the more training you do, the more advanced in dog grooming you become.
You will need to start from the beginning at level 2 or equivalent, as course providers won't allow you to start further along than what you are. Again, think about what you want to achieve and how far you want to take your career.
For example, if you want to work for someone else, then level 2 to start with should be adequate training, but if you want to work for yourself or start your own business, you should continue learning to level 3 or 4.
Options for dog grooming training
There are various options to carry out your training, but an essential aspect of your training is that you get some practical experience too.
Take an online course. Online courses are great for informing you of the basics of dog grooming, and they can be cheaper than in-person courses too. Be mindful that with online classes, you will need to seek real-life practice actively, so consider teaming up with a dog grooming salon or investing in a model dog.
Go to a dog grooming school. Research dog grooming schools close to you and read the course reviews. Ensure the training suits your needs and experience level and how the course is assessed.
Get on-the-job training. This is an excellent option that can help to make you more employable. Some dog groomers double up as training schools so you can get real experience working in a dog grooming salon. Check the establishment is reputable and talk to other dog groomers who have trained there.
Cost of dog grooming training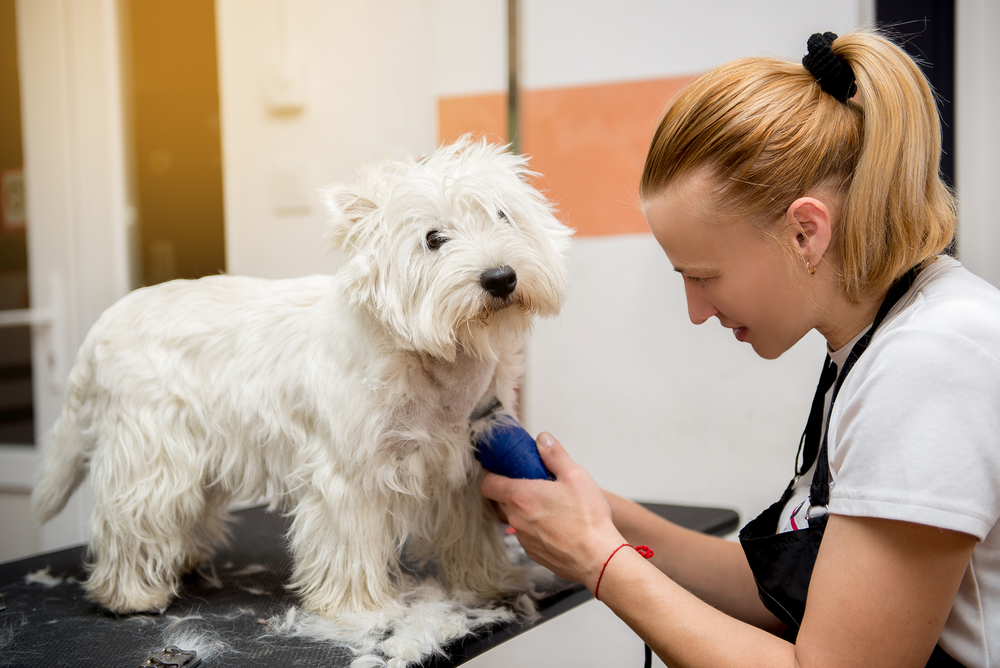 Dog grooming training courses vary in price. They range from around £150 for taster days up to around £500+ and everything in between. The cost of the course will depend on which route you take, how experienced you are and the training provider you choose.  
However, even though the cost of the training might be a little high, the money that can be earned in dog grooming is worth it. An employed dog groomer's salary is, on average, almost £19, 000 annually; self-employed dog groomers make more. It is worth putting in the training now and working to levels 3 and 4 so you can build on becoming a self-employed dog groomer.
Dog grooming training providers
There are many dog grooming training providers, but here is a list of some that we offer excellent courses.
Anrich Dog Grooming Training School has been established for 20 years and is an accredited City and Guilds dog training centre. The key to their success is great tutoring, the course's hands-on nature, and their vast model bank of dog breeds.
Paw Pad Dog Grooming Academy offers three training levels with their in-person dog grooming courses. They pride themselves on having fully qualified tutors and small class sizes.
Groomarts Academy is a dog grooming training and education centre offering accredited courses. They are proud to deliver the most commercially focused education in the UK each year; they help create over 120 new businesses.
 With so many excellent courses, research and find a training centre near you. If you choose an online course, ensure you get some practical experience too.
What do dog groomers need to learn?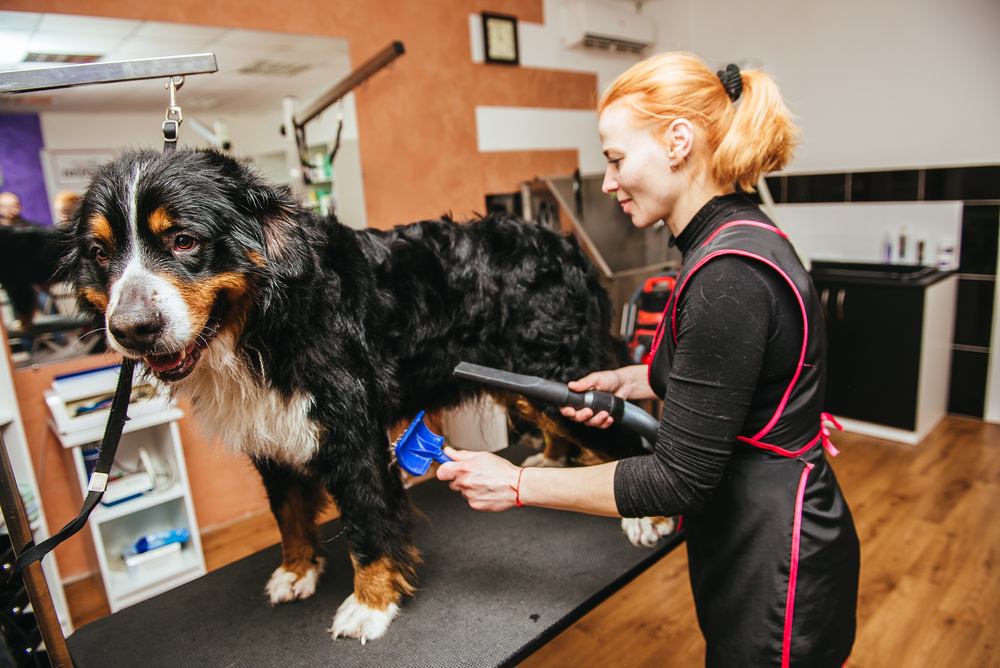 If you're a newbie to dog grooming, make sure the course you're considering teaches all the basics. Here is a list of the basic skills a dog groomer needs.
The ability to calm and control nervous dogs.
The skills and techniques used for trimming and bathing.
Attention to detail, including how to clean a dog's ears, teeth, eyes and trim their nails.
How to look out for infection and irritation.
What equipment and products to use.
How to handle customer information and bookings.
If you plan on working self-employed, you'll need knowledge of how to run a business too.
Career options
Once you're ready to start working, a few options are available to you.
Work for an established dog grooming boutique.
Start your own business and employ other dog groomers to work for you.
Become a dog grooming training centre.
A final word
So, what qualification is best for dog grooming? That depends on your level of experience, budget, your location and what you want to achieve. It is always best to do an in person course but if you do choose to go with an online course, make sure you get some practical experience too.
Want to learn more about what you can do as a self employed dog groomer or how to run your own dog training centre? Savvy Groom School offers dog groomers and business owners a rich and robust management system where you can manage students, courses and training days, manage customer information and appointments easily and you can even organise billing and contracts. 
For more information on what Savvy Pet School can offer you, request a demo or contact us.