You love our furry friends, and you're considering a career in dog grooming? We approve! But now you're wondering what you're getting into and if dog grooming is hard. Well, you're in the right place to find out. This article discusses some helpful tips for being well-informed and successful in this excellent industry.
So, is it hard to groom a dog? Well, the answer is yes and no. Like anything new, it can be difficult initially, with some finding the job more challenging than others. With the proper training, practice, and research, the career can be gratifying and opens doors for self-employment too.
Top Tips in Dog Grooming
In this section, we discuss some of the top tips for dog grooming to give you an idea of what makes the job easier and more manageable. By following these steps, you are setting yourself up for a successful career in dog grooming.
Groom regularly
Some dogs can develop painful knots and skin irritation if they aren't routinely groomed enough. Overgrown nails can also pose a risk to a dog's well-being, and trying to cut nails that are too long can be hard work and uncomfortable for the dog.
Make sure your customers book their puppies in to be groomed with you regularly, as this will make your jobs more accessible, and it is better care for the dog too. When dogs are uncomfortable or the grooming process takes too long, they can become irritable and are less likely to cooperate.
Be patient
Patience is vital when working with animals. Dog grooming isn't a one-size fits all, as different dogs have different personalities and needs, much like people. Some dogs are easygoing and will allow you to groom them without a fuss, but others can be nervous around people who aren't their owners and don't like being touched.
You must take your time and build a relationship with anxious dogs. See them regularly, don't rush and take things at the dog's pace. In addition, dogs can sense when you're stressed, which can equate to an uncomfortable situation for you and the animal.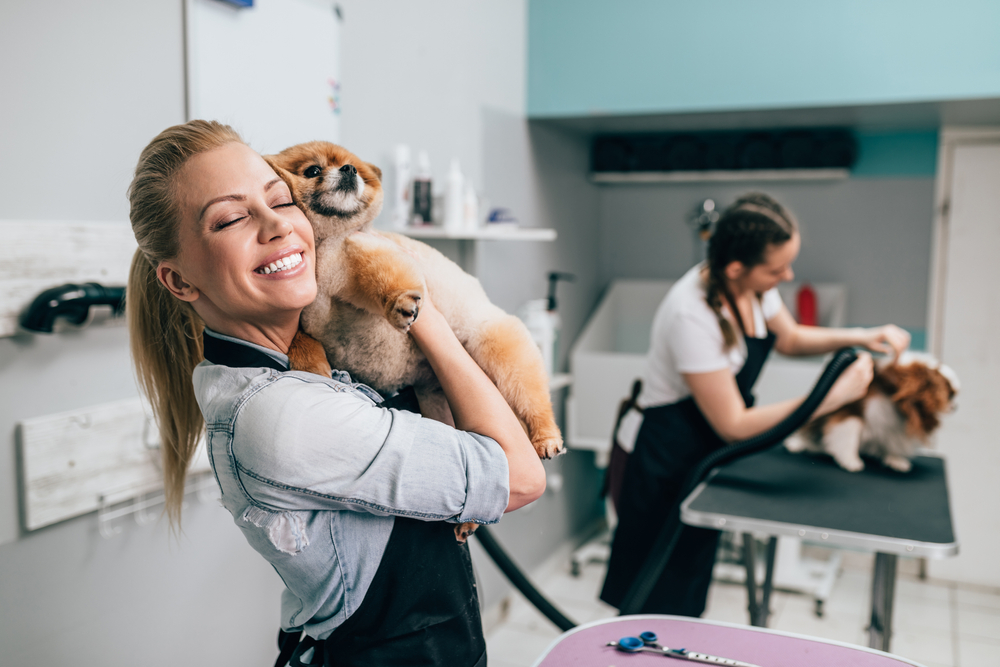 Choose a safe place to groom
Choose a safe, well-lit, comfortable and calm environment to groom a dog. This is particularly important if you choose to work for yourself or start your own business.
You want your doggy clients to feel pampered in a loving, stress-free environment to make things easier for them and you. Not only this, but you want the dog owners to feel comfortable in leaving them in your care and having a lovely environment can help.
Furthermore, it is easier to groom a dog in a safe environment. Not only can you harm a dog if the space isn't up to scratch, but having an unfit space can damage your reputation as a dog groomer and will deter customers from choosing you to groom their precious pooches.
Use appropriate equipment
Being a dog groomer takes specialist equipment. Investing in good quality dog grooming equipment can not only save you time, but it improves the quality of your work. Research the best equipment within your budget, speak to other dog groomers or visit a dog grooming specialist retailer to find out your options.
Additionally, be sure to choose the right bathing and shampooing products for your doggies. It is always best to choose natural or unscented products but get clued up on the best products for skin conditions and types of fur too.
Here is a list of some equipment you'll need as a dog groomer.
Cleaning and bathing products
Brushing products
Trimming products
Nail and paw maintenance products
Ear and dental care products
Large grooming equipment like a table and a tub
Other equipment such as hairdryers and towels.
Be knowledgeable
Whilst you don't need to have a qualification in dog grooming to work as one, it's a wise idea to get some training. You are unlikely to be employed as a dog groomer without qualification, and if you're planning on working on a self-employed basis or starting your own business, getting the right training is paramount in telling your potential customers that you're a reputable dog groomer.
Getting qualified to level 3 in dog grooming or even level 4 demonstrates that you have more experience in this sector. Choose an accredited dog grooming course that will allow you to develop the skills needed to become a superior dog groomer so you stand out from the crowd.
Furthermore, do your research on different breeds of dog and the different coats, as the way in which dogs are groomed varies from breed to breed. By doing this, you can expand your client base and offer a broader range of services, thus making you more successful in this industry.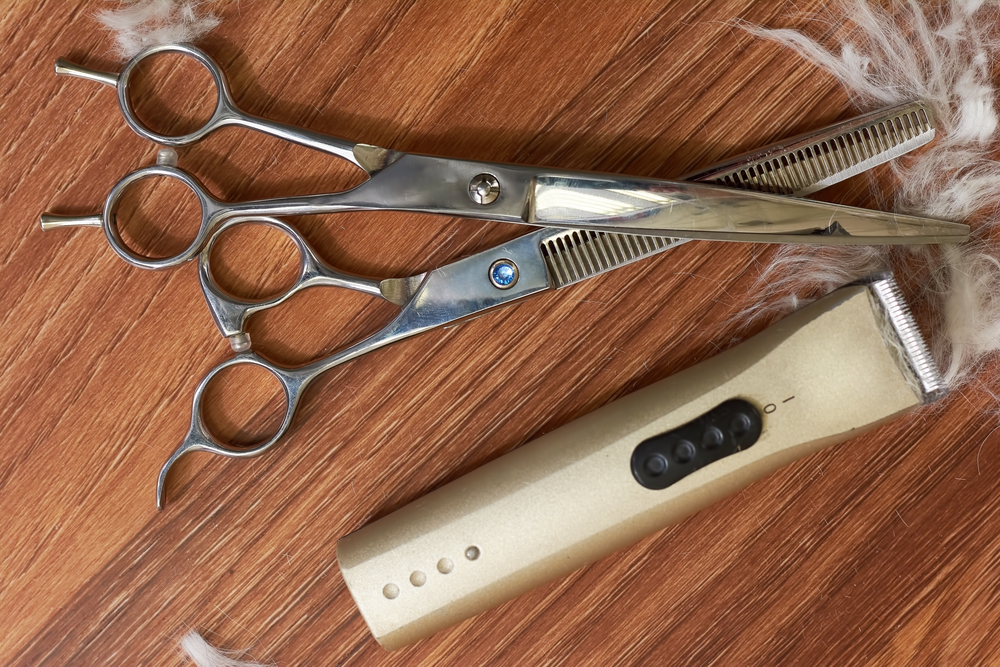 Attention to detail
Paying attention to your furry customer is so important when building your reputation as a dog groomer. Cleaning their eyes and ears and looking out for problem areas isn't necessarily going to make your job easier, but with research and practice, you will become faster, and before you know it, it will be second nature.
Concentrate on the business
A more profitable way of dog grooming is to work on a self-employed business or to start a business, not to mention how rewarding it is. Don't forget to concentrate on the business side of things when dog grooming. It is important to consider your costs, pricing, time management and ensure you are compliant with the right insurance, for example.
Having a good business mindset from the start will help you grow your business faster, make life easier, and ensure success. How much self-employed dog groomers earn is far more than employed dog groomers, so it is well worth investing in yourself.
Once you have an established dog grooming business, the possibilities are endless! You could even expand your business into home boarding for dogs that offer dog grooming services. Why think small?
Invest in a management system
Managing appointments and customer details is one of the most challenging parts of dog grooming when working for yourself or running a business. It's all Savvy has created Savvy Groom School's management system specially designed for dog groomers. This system allows you to manage courses, students, customers and appointments easily, all in one place.
Consider saving on costs elsewhere and invest money into a management system that will be worth it. Running a dog grooming business from home is one way to keep costs down when you're just starting out.
About It's All Savvy – Savvy Groom School
Savvy Groom School is here to make things easier for you. Savvy Groom School is the first dedicated grooming school software developed in association with iPet Network of Groom Schools and with supportive groomers worldwide.
After investing in the management system for your dog grooming business or training school, you can manage students, courses and assign training days. It is easy to manage all of your customer's information professionally at your fingertips.
You can effortlessly manage appointments and communicate with customers when using the system. Finally, you can say goodbye to filing completely as you can use Savvy Groom School's system to manage billing and contracts.
Want to give it a go? You can request a demo, or contact us for more information.
To conclude
So, you wanted to know if it was hard to groom a dog. Well, everyone has to start somewhere; it can be difficult initially. But, by following the tips in this article, including investing in a dog grooming management system, things will get easier, and you will start to see the benefits.